Name the B-List Celebrities I'm Side-Hugging
My Pops is a big fan of the living history of World War II.  Having had an Uncle who was killed in battle, my Dad has been inspired by the "Greatest Generation" and, over the past two decades, has used that inspiration to capture the stories of 25 local WWII veterans, many of whom have since passed.
This past Monday, June 6th, (which was the 67th anniversary of D-Day) the Lancaster Barnstormers Baseball Team had a Memorial Service for Major Dick Winters of Hershey, Pa., who recently passed away in January of 2011.
Major Winters was a main character in HBO's "Band of Brothers", which was based off Stephen Ambrose's book of the same name.  Winter's commanded the "Company E" … which is the Company whose story that "Band of Brothers" follows.
To honor both Major Winters and WWII Veterans, the Barnstormers had a couple of the actors from the "Band of Brothers" series, as well as two of the World War II veterans that were portrayed in "Band of Brothers".
I was able to catch a picture with two of the actors.  If you're a movie and/or TV buff, you should be able to recognize these guys.  The one in the middle was a childhood star, while the one with the brown "Lancaster" jersey has been in numerous movies, and had a role in a major Fox TV series, as well as a major role in an HBO series not named "Band of Brothers."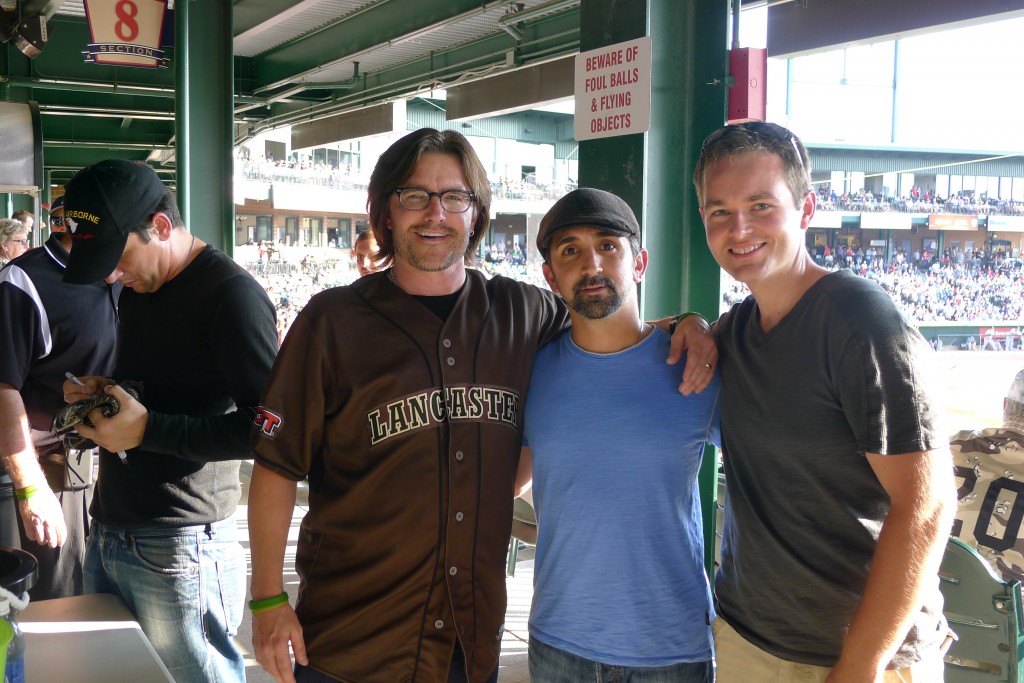 So, can you guess the names of the actors and/or the titles of the TV series/movies in which they played?  There is a way to cheat, but I'm not going to tell you.
Here are some hints taken from the movies and/or TV series in which these guys had some roles (obviously, two of the photos are taken from the "Band of Brothers" series):