10 Ways to Spice Up Your Obituary: Part 1
1.  Add random, nonessential, odd information.  Example: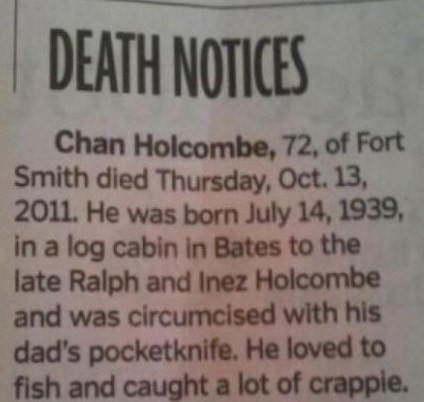 2.  As displayed in Fred Clarke's obituary, you can add an implied curse word for some spice, and then go on to mention bacon.  In fact, if your family finds a way to mention bacon in your obituary, it's almost guaranteed that you were winning at life.
(Fred) wouldn't abide self important tight *censored*.

During his life he excelled at mediocrity. He loved to hear and tell jokes, especially short ones due to his limited attention span. He had a life long love affair with bacon, butter, cigars and bourbon. You always knew what Fred was thinking much to the dismay of his friend and family. His sons said of Fred, "he was often wrong, but never in doubt". When his family was asked what they remembered about Fred, they fondly recalled how Fred never peed in the shower – on purpose.
Fred's obit is quite funny.  You can read the rest of it here.
3.  You can add a humorous, touching yet snarky quip like the one Robert James Smith's wife wrote in his obituary:
Robert James (Bob) Smith, 69, of Wilmington, North Carolina, surprised and annoyed his wife by dying in his sleep in the early hours of January 6, 2005.
4.  Or, you can skip the humorous and snarky part and major on the touching, exemplified by Stephen Schleis' obit:
Before his passing on Sunday, Stephen Schleis had forged an 84-year-old trail of laughter, generosity, compassion and wisdom. He was more than a role model to his family. He was a hero.

He raised his five children in a modest three-bedroom home that he and his wife built in Barberton. Their love made it a castle.

Steve broke his back serving in the Navy duringWorld War II. For 30 years, he found comfort sleeping on the living room floor. Each morning, his children rolled him over so he could crawl to the corner and "walk" himself up the wall. Then we sent him off to work two factory jobs so we could afford private school and an in-ground swimming pool and basketball court on our quarter-acre lot — things he was far too busy to ever enjoy.

He wouldn't eat until everyone in his household had their plates full. He never complained if he missed out on the apple pie or the warm rolls. Even at the end, confused by dementia and eating pureed food, he wouldn't take a bite without whispering: "You first." …
5. Or, you can bypass the touchy type obituary and just say it like it is … like the writer of this obituary did for a Mr. Roosevelt Conway: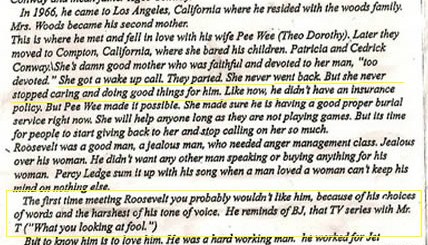 To be continued …