Why I Kinda Believe in Purgatory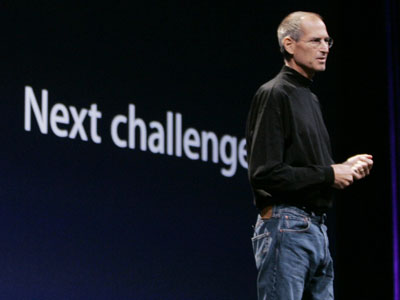 Last week we learned that Steve Job's last words were, "Oh, wow!  Oh,wow!  Oh, wow!"  As a Buddhist, Steve probably believed in the light at death and maybe that's what he saw.
Maybe Steve scripted those last words to perpetuate his legacy as this age's greatest creative.  Or, maybe it was his body's near death endorphins over stimulating his neurological system to the point of hallucination.
I believe they're all possibilities and its fun to think about those possibilities.  I'd like to suggest that it's also possible that Steve, the Buddhist, was worshipping with his last words … that the great creative / visionary could have been seeing a clear vision of the Creator.
And the idea of purgatory creates this possibility.
*****
Roman Catholics divide the Church into three different groups:
The Church Militant: Christians who are in the world now, battling sin and the devil.
The Church Triumphant: believers who have passed from this world, having overcome sin and the devil and now dwell in heaven.
The final group is where most Protestants, evangelicals and Pentecostals part with the Roman Catholics, and this group is called:
The Church Suffering: This division of the church belongs to those that need to be perfected through farther discipline before they enter heaven.  And this imperfect group of Christians finds perfection in purgatory, where they will stay until they are purged from venial (forgivable) sins and are subsequently relocated to heaven.
This past November 2nd was "All Souls Day".  The day the Church militant prays for the Church Suffering … that God would CHANGE / GROW the suffering to become the triumphant.
And while purgatory divides the church after death, the idea of purgatory also divides the theologians in the church today.
Yet on both sides of this issue there is an agreed upon assumption: that, in some sense, the deceased must be perfect before entering heaven.
Protestants conventionally assume that when we die, through some magical-Jesus-blood-covered-pill, we will all of a sudden have perfect intentions; perfect actions … or at least, we'll be "seen" as perfect.  "Billy Bob died from cirrhosis of the liver caused by his intense love of strong drink, but he's perfect now!" is the general assumption.
Some believe that you have to be perfect here on earth – before you die – in order to enter heaven.  If you die imperfect, sorry, my friend, your future looks kinda fiery.
*****
I don't believe in the magic Jesus-pill thing, I don't believe in holiness movement perfectionism and I don't believe in the need to separate two different types of Church after we die.
Why?
Cause I don't believe you have to be perfect to enter God's presence.
Well, technically, I don't believe we have to be perfect in the Hellenistic sense of perfect.
Hellenism influenced the church in a myriad of ways.  One such way is how we define perfection.  Thanks to Plato's Forms, we've assumed that the perfect doesn't change, but is a static ideal.  In turn, we've defined God as immutable, impassible and omni everything; and we've defined the ideal human in much the same way (in fact, it could be argued that our understanding of the ideal God is a projection of the ideal human).
Perfection, for humans, though, is change in the right direction.  Perfection is right change.  It's always change.  It's never static.  And as God relates with us, so His perfection changes.
Purgatory might be closer to the real heaven than we've thought.  Eternal life could in fact be like purgatory in so much as it's a not a place where all of a sudden we're doing, thinking, feeling everything, in every way, right.  Eternal life might just be that place where God is closer … a place where the tears are more readily wiped away.  A place where we all grow together.
Maybe eternal life is another way of saying forever growth?
*****
And is it possible that the growth that we'll experience in heaven isn't JUST moral growth?  Maybe it's relational growth, growth in life and abundance, and … maybe its growth in our knowledge?
Is it possible that a person could, by the grace of God, enter heaven with little redeemable moral qualities?  Is it also possible that a person could, by the grace of God, enter heaven with little redeemable understanding about God?
Take Steve Jobs for instance.  Steve wasn't morally perfect.  Nor, (assuming Christians have a little more revelation than other religions), was his knowledge of God perfect.
But, if there's purgatory in heaven, where we all change for the better, than maybe, just maybe an imperfect guy like me could enter.  And maybe the last words of Steve Jobs were inspired by the greatest vision of the future he had ever seen.