Monday Death News: Random Links to Death's Activities and Inspirations
1.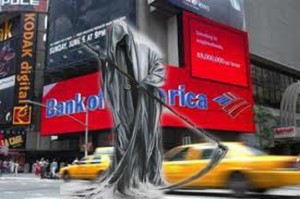 Arthur Livingston was declared dead by Bank of America — one of his personal banks — way back in 2009. Fortunately, Mr. Livingston is … well … he's still living.  Thus says Mr. Livingston's lawyer:
Bank of America has been reporting him as deceased to the three major credit agencies since May 2009, he said. His credit report states "file not scored because subject is deceased."

The mistaken code was finally removed on Feb. 22, four and a half months after Livingston, 39, learned about the error and complained to Bank of America.

The regional manager of a chemical company, Livingston discovered the dilemma when he tried to obtain a loan from a mortgage company in October. The problem may have begun when Livingston, who said he has been a Bank of America customer for 14 years, sold his home in May 2009.
Personally, I think it's time for Bank of America to rebrand. Who's going to trust a bank of America after the recent bank induced recession?  Maybe they should try, "The Bank of Tebow."  Or, The Swiss Bank.
Apparently, the mistake cost Arthur a couple thousand dollars.
I can think of worse mistakes.
2.) Like the mistake this past week that cost this little bunny his life.  "Lil" the bunny is a special bunny because it happens to be ear-less.  So special that "Lil" was having a press conference in his pen at the German Zoo he was living at.  During said press conference, one of the cameramen took a step backwards and stepped on "Lil".
Said the spokesman for the German Zoo:
"We are all shocked. During the filming, the cameraman took a step back and trod on the bunny.  He was immediately dead, he didn't suffer. It was a direct hit. No one could have foreseen this. Everyone here is upset. The cameraman was distraught."
I feel awful for both "Lil" and the cameraman. I guess the rabbit never heard him coming. Maybe it was natural selections way of terminating the possibility for more ear-less bunnies.
3.)  It's illegal to die in Falciano del Massico, Italy.
From "The Globe and Mail":
Since the start of the month it has been illegal to die in Falciano del Massico, a village of 3,700 people some 50 kilometres from Naples in southern Italy.

Mayor Giulio Cesare Fava issued the tongue-in-cheek decree because the village has no cemetery and it is feuding with a nearby town that has one — creating a logistical problem about what to do with the deceased.
Apparently, if you break Mayor Fava's law, you commit a crime worthy of capital punishment.
4.) The creator of Red Bull died this past week.  I guess he's really finding out if it gives you wings.
From the procrastinating college students of the world, we salute you, Chaleo Yoovidhya.
5.)  The "Corpse Flower" is going to bloom this week at Cornell University. It only blooms every five or more years and is an extremely rare plant.  Making it even more special is that fact that when it blooms, it smells like a decomposing piece of corpse.
I wonder, did God create this "special" plant, or is it a work of the devil?  And, if your boyfriend or girlfriend gifted you with this four foot monster of a plant, how would you interpret said gift?