Death
A couple months ago, I wrote about my struggles with burnout and depression in a post called, "I Need Help."  This past week – in connection with May being Mental Health Month — that same post was reposted on "Q Ideas" website.  The first time I posted on my own website, I received a lot of concern and encouragement from my friends and readers; when I reposed it, I received the same.
I so appreciate all the love and concern that's been expressed, and I wanted to give an update on how I've sought for help.
*****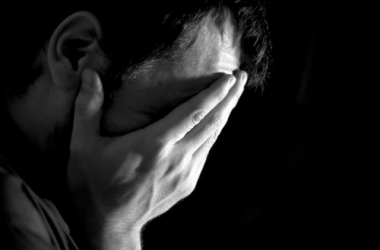 We like to think of ourselves as autonomous creatures.  And in many cases, we are able to make our own choices and will those choices into reality.  Our autonomy can deceive us into thinking we can do this alone.  That we are gods, able to control our own destiny and do "anything we put our minds to".
For many though – like me – we've acknowledged a weakness in ourselves so deep that it's not only caused us to redefine "human autonomy" but question its very existence.  We've shed our pursuit of being "like god" and accept our humanity.
Most of us will acknowledge the fact that we are indeed limited and finite.  But few will take those facts to their end admit that in many, many ways we are powerless.  We are stuck in a hole that we can't get out of.  The walls are too high, too slick, the climb too difficult.  We … can't … get … out … on … our … own.
In order to get out, we admit that we're powerless, that we are stuck and call for help.
Some of us don't make that call.  Some of dwell in the hole of our hidden problems and our closet depression.
A couple months ago, I was stuck in a dark hole.  I needed help.  I recognized that I was not the autonomous creature I thought I was.  At this point, many become theonomous, acknowledging our need for a transcendent reality to come and save us.  Others become synergistic, recognizing that our freedom from the pit can only be found when someone lowers the rope and you grab onto it.
Perhaps, though, we need to recognize both: we need something/One higher than ourselves and we need others when confronted with the reality of our incapability.
Since posting the "I Need Help" article on my website a few months ago (it was also a guest post at "Q Ideas" this past Friday), I've made a number of changes in lifestyle and it's helped me.
One.  I recognized my humanity and stopped trying to live like a god.  Humanity has been trying to be gods for a long time.  It's a curse.  So, I now have some time off.  In fact, I was forced to take some time off.  I'm usually on call for seven days a week.  Now, I'm only on call for five days.
Two.  I've taken that time to seek some help from others.  I'm seeing a therapist.  He's smarter than me.  Walked life longer than me.  He's helping me better than I can help me.
Three.  Self-care.  For caregivers – as some funeral directors attempt to be — the idea of self-care is heretical.  Our creed is to PUT ASIDE OUR OWN NEEDS FOR THE NEEDS OF OTHERS.  And we do this willingly, as it's not only our creed … it's who we are.  We enjoying serving you.  Until we reach a point when we have given all we have and are left empty … burnt out … depressed.
It's at this point that our ideal creed is amended to read, "we put aside our own needs for the needs of others, and we care for ourselves so that we can continue to care for others."
Self-care means different things for different people.  For me, it means time off work, it means sleep, it means a whole lot more reading, it means going to the gym more often.
And in that self-care, we can serve longer and better.
Ironically, if's through admitting our powerlessness that we gain power.  We have the most potential autonomy when we find our dependence on God and others.