Postmodernity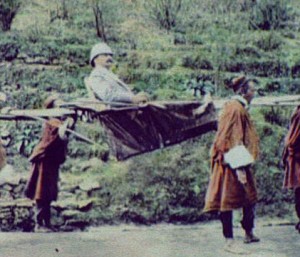 My mom reads my blog.
I think that's cool.
The other week she told me that she got mad at me when she read in a previous post of mine where I said, "I'll go so far as to say – at least propositionally – when it comes to the Christian faith, there are no absolute truths in the modern sense."
Most Christians, my mother included, associate what I just wrote as me being sucked in by the postmodern currents of culture.  And I guess that's one way of looking at it.
For my mother's sake — and maybe yours — let me explain the above statement by attempting to define what I meant, and how the little prepositional phrase, "in the modern sense" means a lot, especially for postmodern culture and people, who, when they hear the words "absolute truth" and "Christian" in the same sentence, interpret it to mean something very different than what you or I intended to mean. Sort of like telling a Hindu to be born again, if we want our locutionary act to match the illocutionary act we need to understand the other person's perspective or we might receive an unwanted perlocutionary act.   
————————————————————-
Defining postmodernism is a difficult if not impossible task and I often cringe when academics approach postmodernism like they approach modernism.  Postmodernism is like a young man in his teens. You might be able to name his parents, where he goes to school, where he's from, etc. but to think you've got his identity nailed down – when he probably doesn't know his identity himself – is presumptuous.  A presumptuous act many evangelicals are committing.
Sure we can talk about this young teen (thus this discussion), but not like we can talk about modernity.
Modernity is like the grandparents of the young teen in that their identity is rather definable … their life, for the most part, has already been defined by where they worked, who they married and what they did with the 80 plus years of their living.
I'm all for getting a good grasp on modernity, which we can do because modernity's day is nearly over and we have many smart men and women who are writing it's obituary, providing a nice summary of its life.
I'm all for reading the sources of postmodernity, such as Foucault, Lyotard, Derrida and the oft overlooked Gadamer, but it should be understood that the movement is dynamic in nature –  like the young teen – and although those thinkers lead the academic arm of the movement's infancy, they can't be said to totally define it.
This is an emerging movement and is still in the process of defining it's identity.
————————————————————-
I think the best way we can understand the existential undercurrents of postmodernism is to attempt to grasp post-colonialism.
Postmodernism explicitly rejects the "world-view" label … saying postmodernism is a world-view is like calling a Jew a Hitler lover, or vice versa.  The idea of a "world-view", they would contest, is colonial in nature, and is the very thing their critique is leveled against.
For many of us Western Christians, "world-view" is almost equivalent with the word "ideology", but for many postmoderns "world-view" has an imperialistic tone.  This is why they can say, "postcolonialism isn't a world-view" and then we'll make fun of them with the old "reductio ad absurdum" argument.
We in the West, according to our heritage, like to deal with the philosophical aspects of post-colonialism (i.e. postmodernism), but the larger conversation has less to do with absolutes per se and more to do with the praxis of absolutes: namely, the imperialistic tendencies that human's get when they believe they hold an absolute or a universal.
Again, with postmodernism we like to satirically state, "Postmodernism states absolutely that there's no absolutes."  We eisegetically apply our understanding of absolutes, overlooking that for the postmodern, the denial of absolutes is just as much a denial of imperialism. For many, the denial of the absolute is a denial of the imperialistic tendencies of the Global North. Do you really think postmodern philosophers are so stupid?
While many Christian apologists feel good about landing a straight right and a left cross to the face of postmodernism, they may find they have been fighting against a straw man.
Have I mentioned before that modernism is decidedly white?  Have I mentioned before that white people embody the colonial tendencies oft associated with modernity? Have you ever wondered why it's harder for the older white male, Western Christian Ph.D.'s to grasp postmodernism / postcolonialism?  Their perspective just makes it difficult … I guess they just have trouble looking down.  In fact, the less you have of the above characteristics, the easier it will be to understand (I didn't say accept) the postcolonial / postmodern ethos … thus the reason woman, African Americans, Latinos, etc. have a nearly innate sense of the undercurrents of postcolonialism and so are able to understand postmodernism with more ease.  As one black blogger puts it, "We've been postmodern since 1619."
The questions from postmodernism are being posed more so from the background of "your country and it's values are invading mine" and less from the "your truth is your truth and it's invading my truth" spin from the white West.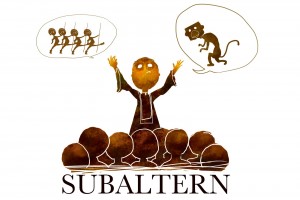 Based on years where the Global North obliterated the American Indians, took control of Africa and much of South America, enslaved Africans, discredited woman and generally raped the Global South, believing that we possess "the truth", all this lead guys like Foucault to believe, not only that "knowledge is power", but that "knowledge is violence."
The global discussion is less about doubting the value of truth and more about doubting the value of power. When this distinction is missed it's easy to see why postmoderns often feel so misunderstood by liminal moderns who tend to look through the dialectic of reason (modernity) and rejection of reason (postmodernism).  That dialectic touches on some of the discussion, but misses the larger discussion.
The imperialistic tendency of the Global North to impose their story on to others is one dimension of what I mean by "the modern sense" of absolute truth.  For the postmodern person, when he or she reads that you or I believes in absolute truth, his or her first word association is NOT "scriptural principles" but is with colonialism, maybe imperialism and most certainly pride.  As a Christian, by rejecting the "modern sense" of absolute truth, I am saying that Christ has no interest in overpowering others … but in giving his life for them.
————————————————————-
Lyotard writes, "Simplifying to the extreme, I define postmodern as incredulity towards metanarratives."  In other words, in the context of this conversation: we doubt that the white man's perspective is all there is.
Rev. Robert Lewis Dabney, as a southern preacher preceding the Civil War, writes,
"The scriptural argument for the righteousness of slavery gives us, moreover, this great advantage: If we urge it successfully, we compel the abolitionists either to submit, or else to declare their true infidel character.  We thrust them fairly to the wall, by proving that the Bible is against them. And if they declare themselves against the Bible (as the most of them doubtless will), they lose the support of all honest believers in God's Word."
This type of attitude created post-colonialism and postmodernism.
Dabney's quote points out two things that post-colonialism would claim as it's context in which it was birthed: 1.) the way that universals tend to be used for power and 2.) the need for us to be chastised in how quickly we claim them.
Mom, I hope that helped you realize your son is not shaking hands with the world.  He's just trying to speak the language of his generation so that he might reach some who are having trouble seeing Jesus because he's dressed in terms they have trouble understanding.
Any thoughts, questions, corrections or suggestions?  Let me know : )