Post-structuralism
I come from a theological background that embraces what many call a "libertarian view of free will" (or the "rational actor theory" by sociologists), the praxis of which means that no matter your environment, biological constitution and your nurture, you (can) have the freedom to choose and are therefore responsible for who you are.
Just the other day I was sitting with a young man who has been marginalized on a number of fronts due to his economic status and his disabling lack of kidneys.   His three times a week dialysis, coupled with a lack of transportation, keeps him from being employable.  On top of that his girlfriend just found out she's pregnant to another man.
He was telling me that his spirit's broken.   No hope.
And he says, "It is what it is."
I hate that saying.  For a young man like this, it's the white flag of surrender.  It says, "My life will never be any better than what it is."  And with that attitude, it won't.
It'd be easy for me to respond, "Stop saying, 'It is what it is' and start saying, 'it will be what I make it' … start believing you can take control of your future." And that's the positive side to believing in a libertarian free will … that you, no matter what your situation, can find a way to overcome.  Especially, when you factor God and his Church into the equation.
It's easy for me as a privileged white man to say, "Just take your world by the horns … get a job, find some self-respect." And while acknowledging nature and nurture aren't causative, it's also vital to acknowledge that being dealt a bad hand limits options, and can, in some areas, take away both the freedom and the will to move on.
*****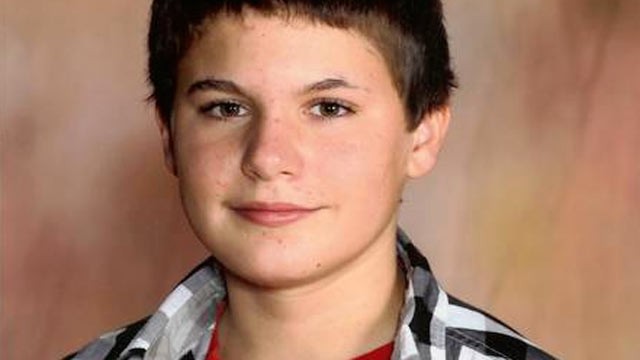 Bullying is another thing that limits the will.
This past week, Jamey Rodemeyer committed suicide.  He was 14 years old. He was also gay.
Stuff like this was posted on one of Jamey's social media pages,
"JAMIE IS STUPID, GAY, FAT AND [sic] UGLY. HE MUST DIE!"
And another:
"I wouldn't care if you died. No one would. So just do it It would make everyone WAY more happier!"
Apparently, according to his friends and mother, he had been made fun of for years.  And, he had been told, by a number of his class mates that he was going straight to hell.
He was ONLY 14 years old.
But, this isn't new.  According to a Rutgers report, roughly 20% of gay kids attempt suicide compared to only 5% of straight kids.
In response to Jamey's suicide, Lady Gaga (who I've been writing about a lot of late), wrote:
"The past days I've spent reflecting, crying, and yelling. I have so much anger. It is hard to feel love when cruelty takes someone's life….Bullying must become illegal. It is a hate crime. I am meeting with our President. I will not stop fighting. This must end. Our generation has the power to end it. Trend it #MakeALawForJamey."
I work with youth at a type of Boys and Girls club called "The Parkesburg Point" (which is where I met the young man with no kidneys).  Bullying is real.  And it really messes a kid up.  Gay or not.  And while bullying has been taking place ever since one child was shorter than the rest, cyber space has created a forum that takes bullying those who are different to a whole different level.
In fact, we don't allow cell phones at "The Parkesburg Point" for that very reason.  We're afraid that someone would use their cell phone's camera to take a compromising photo of another youth, edit the photo to make it look worse, post it on facebook only to have the photo grow viral and the bullying grow exponentially.
And I know there's agendas and associations from the political right and the left whenever the term "hate crime" is brought up.  Everybody's afraid that their rights are being violated.  But, I think cases like this should make us realize that free speech and bullying aren't the same thing … that bullying a different child to the point of death is different than disagreeing with a particular lifestyle.
*****
Bullying breaks the spirit.  It effectively takes away both freedom and the will to live.  It takes away worth.  It takes away the future.  It creates death.   And in some ways, creates what appears to be "a suicide" into murder.
In Jamey's case, the police are opening a criminal investigation and supposedly are determining whether or not they will charge three particular boys with some form of harassment, hate crime or cyber harassement.
Malcolm Lazin, founder and executive director of the Equality Forum, states concerning gay bullying,
"They are bullied and marginalized. While some may say that Jamey took his life, it is unrelenting homophobia that murdered him."
On a death certificate, there's a place for the doctor to mark the manner of a person's death .  The manner can either be "Natural", "Accidental", "Homicide", "Suicide", "Pending" or "Could Not be Determined".  And if I were a doctor, I'd be tempted to put my "X" in between the boxes for "homicide" and "suicide."
I believe that Jamey took his own life.  By his own 14 year old hand.  I believe it was suicide.  I also believe that he wouldn't have done it had he been treated with more love and respect by his peers.  And I believe the freedom of his will was greatly damaged by the hurtful words of others.
So was this murder or suicide?  I think the lines are blurred.