Asian Religions
That sounds both familiar and odd, doesn't it?
Those of us who grew up in a Christian background have all read the scripture from the Gospel of John, chapter one, verse one:  "In the beginning was the Word and the Word was with God and the Word was God." Although there's been some disputed difference about whether this verse should be translated as "the Word was God" or, as the Jehovah's Witnesses translate, "the Word was a god" most Christians see this verse as supporting Jesus' divinity.
The Greek word for "word" is "Logos."  And, as many of you know, "Logos" has a Greek philosophical history to it.  It was first used by the Greek philosopher Heraclitus (535 – 475 BC) as a word that implied "universal reason", or the "reason above man's reasoning" as though it was a transcendent, ideal Reason.
St. John used a Greek philosophical term to describe Jesus.
Scholars who are in the know (of which I'm not one … my ability to memorize foreign languages is almost as good as my ability to jump over buildings), believe that John was writing his Gospel with the Greeks and Hellenized Romans as his intended audience; thus, his use of Logos as a means to communicate that Jesus was the transcendent representation of all that was reasonable (Paul said that the cross was foolishness to the Greeks, so apparently John and Paul may have disagreed on this matter).
Between  the time of Heraclitus and John the term "Logos" had undergone some change in meaning specifically through the attempts of Philo to synthesize the word with a Judaist understanding , and so we can only speculate about John's conception of Logos and exactly what he meant by using it in reference to Jesus.
What we do know is that John attempted to perform some type of contextualization of Jesus to the Hellenized mind when he made use of Logos.
Interestingly enough, the Chinese Bible did a similar thing.
Instead of translating the term "Logos" for a Mandarin equivalent of "word", they translated "Logos" into "Tao" (or "Dao").  So that it reads, "In the beginning was the Tao, and the Tao was with God and the Tao was God." Taoism (or Daoism), as you may or may not know, is the Asian religion that brought the Ying and the Yang into popular culture.
"In Chinese culture, 'what is truth?' isn't the question being asked"  States Prothero, "Rather than asking after truth as did the Greeks, Taoism asks about where to go: what is the way to the Way?" For the Chinese, "The Way" is the Tao … it is the transcendent Way to life … to abundant life.  Prothero continues, "In fact, of all the great religions, Taoism may be the most allergic to doctrine … to be fully human is to dance with this Dao, moving in rhythm with its core values of naturalness, equanimity, spontaneity, and freedom."  So that when the Chinese Bible says that Jesus is the Tao, they are saying that He is the personal Life force, with whom all of us need to connect.
(Eastern Orthodoxy has a similar conception of the divine dance.  I wrote about it some time ago.)
Does it come as a surprise that a large percentage of the world's population isn't seeking the Greek Truth, but the Taoist Way?
What do you think about the Chinese Christians translating Logos as Tao?  Is this a contextualization that's gone too far?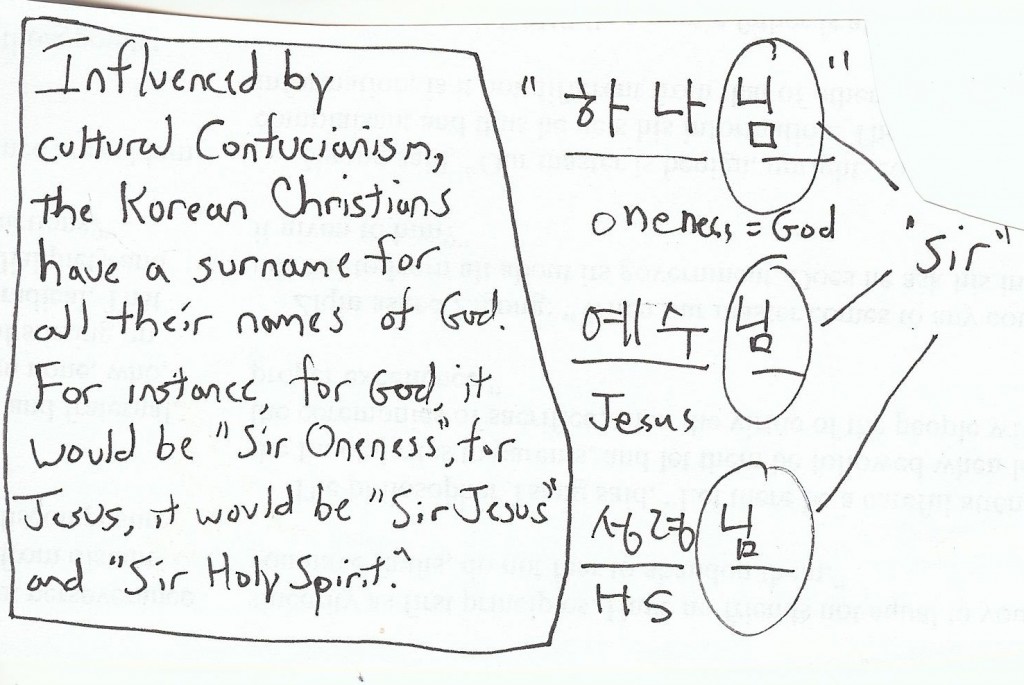 Compared to other languages, honorifics play little role in American English.  Along with democracy, we can blame the King James Bible for our lack of honorifics.  When the KJV was written, "you" was the formal way to address a superior, whereas "Thou" was the informal and familiar term that you'd use for a personal friend.  But, the KJV didn't use "you" for God, but the informal and personal "thou."
Some groups, like the Quakers, caught onto this and figured that since their Bible didn't speak to God formally, why should they speak to men formally?  So, they called those who had a higher status in society the informal "thou", and omitted other formal practices considered obligatory to superiors at that time; all of which was considered "intolerable insubordination" and they often received beatings as a result (Story of Christianity; 254).
____________________________________________
In Asian culture, Confucianism has made hierarchy the modus operandi of society.  In fact, honorifics are mandatory when in a formal relationship or setting, and are so prevalent in their language that it would seem the entire language changes from formal to informal settings.  We have honorifics in our titles, but Asian languages often have honorific verb tenses and nouns.
And these honorifics extend to God.
For instance, Koreans – due to the nature of their Confucian culture – will never call God "You" as it's considered entirely disrespectful.  Not using "you" in reference to God would effectively change almost all of our English worship songs.  They also add the suffix "Sir" to all their names for God, as seen in the graphic above.
____________________________________________
In older English, a person of lower position in society wouldn't even use the second person to address a superior … a language device that communicated "I can't speak to you personally because we aren't supposed/meant to be friends."  So, they'd speak to their superiors in the third person, such as: "What can I do for Your Highness so that I might please her?"
If these honorifics translated to how we speak to God, we'd pray, "How can I serve Your Holiness and please Him today?"
What do you think?  How would your relationship to God change if you always spoke to Him in formal language?