Good God Talk
I like good conversation.  There are a couple things to DO for good conversation.  Here's six "Do's" that I like, but … please, if I've missed anything, LET ME KNOW:
1. DO try your best to be clear! More than 75% (I've heard up to 90%) of conversation is nonverbal.  Being that we're writing, it's easy to misinterpret someone's comment or have your comment misinterpreted.  So, add smiley faces and nonverbal substitutes.  I know they're not manly and cool, but emoticons help bridge the lack of the nonverbal.  AND, don't use obscurantism.  If you disagree, don't act like a professor and shoot down an honest question with big words and terms that are out of your conversation partner's league.  Try, as best you can, to communicate so that your HEARER / CONVERSATION PARTNER can understand.  Some of us, including the author of this blog, tend to be slow.
2. DO spin your comments so that the other readers will have one or two solid takeaways. I don't mind if you write a huge, long comment that explains your whole position on a certain topic, and I've set the comment forum up so you can do that.  BUT, this isn't a forum to debate thesis papers … it's a place for ONE or TWO takeaways.  In real life, long winded people kill conversations; in blog life, the same rule applies, except in this realm we actually don't have to act like we're paying attention … oh, and we send dragons who eat your coffee beans.  Horror.  Also, the fallacy of argumentum verbosium is bad.

3. DO get engaged, get spirited! If you agree with somebody, let them know and if you disagree, tell them … push back!  But, be fair.  And the best way to be fair is to quote what you disagree with and then state why you disagree with that specific statement.  Focus your disagreement and, if you can, try and lace in some good hearted humor.  If you just let your disagreement fly, it usually ends up being interpreted as meanness and meanness is a conversation killer.
"Mean people suck" – awesome bumper sticker quote from the late 90s that was only found on beater cars.
Also, NO RANTS ALLOWED; unless they're very funny rants.
4. DO practice respect and generosity.  There's democrats, republicans, agnostics, atheists, evangelicals, Catholics, Mormons, emergent postmoderns, theological liberals and conservatives, one red Umpa Lumpa who has no friends because he's not orange and many persons in a constant state of identity crisis (like myself) who regularly comment on my blog.  Be generous to the different opinions and be generous towards positions that you're not comfortable with. AND, don't let the discomfort shut you down from entering the conversation.  Engage the person from a different perspective and you both might learn something.  Oh yeah, never admit that you're wrong and never be open revision … just kidding.
In true dialogue, both sides are willing to change. — Thich Nhat Hanh.
5. DO check back. Don't do as I do too often with Nicki: state my opinion and leave the room.  If your comment is provocative or is in disagreement with somebody else, don't just put your stuff on the floor and leave the thread.  Give the person (or give me) the grace to let me respond and farther share my position.
6.  DO comment often.  Even if the blog for that specific day stinks, just comment anyways because your comment makes me smile and because you love me and want to make me feel happy inside and give me butterflies in my stomach.
And remember, I love you too.
Good God Talk:
(Some) reasons for God talk meanness.
Have you ever noticed that you'll fight with those you're closest to?  You'll fight with your brother or your sister … you might fight with your neighbor (but it's unlikely) … but, unless you're in a gang, you probably won't fight with the people across town (West Side Represent!).  We also give less grace to those we're closest to.  Like our spouses.  Am I the only one who's noticed this?
It's the same way with theology.  For the most part, those that we agree the most with concerning theology are also the ones we like to fight with the most … over the little things.  Like if your pastor has taught you a certain brand of theology and you start to disagree with some aspects of that brand.  Like when you drop one  or two of the letters of TULIP and maybe become just a LIP.
I don't know the reason for this "closer you are the wronger you can be" phenomenon, or for the WHOLE theological fighting thing, but I have my theories:
1.) The only conspiracy theory that I hold to is this (wait for it) … we are actually more selfish than we realize.  I'm sort of a Freudian when it comes to selfishness.  Damn Id.  This selfishness and pride likes to believe that WE are actually – although we won't say it – closer to the TRUTH than anybody else.  So, when somebody close to us starts to stray from our ideas the id kicks in and we get agitated.  Arg!  Monster you is unleased!
2.)  Or, we may – with good intent – actually believe we HAVE THE truth.  And when we see someone start to stray that whole brother-to-sister fight switch is hit.
3.) We're the most comfortable with THAT set of TRUTH and we're uncomfortable with other SETS of TRUTH.  So when someone close to us starts to believe the OTHER set, we get all funny, uncomfortable, start seeing the fires of hell.
4.)  I know tribalism is a part of the equation.  When we feel connected to a group by our idea sets and we start to value that group, we become protective gatekeepers who like to keep out those that might ruin the group with their erroneous thoughts.
5.) Lastly, like your annoying brother or sister, those closest to you know where to poke you.  For instance, let's say you're a pastor and your big theological thrust is something like the Satisfaction Theory of the atonement.  What happens when someone in your congregation starts to think differently?  They usually start pushing back (dialectially) against the things you pushed.  A better "for instance" would be the whole modern and postmodern thing that's going on in the broader culture and in churches.
For older pastors and Christians, the modern emphasis on absolute truth — defined in modern terms — is being pushed back against by postmodern who don't like all the associations that go along with "absolute truth."   When you've been taught by someone, or you're church teaches a set of ideas, when you or someone else begins to change in their thinking, they usually change in the emphasized areas of the church.  So moderns produce postmoderns and those postmoderns literally annoy the hell out of the moderns and vice versa (we're going all Hegelian here).  Does that make sense?  You can only "rebel" against things you know.  And so, the "rebel" becomes like the little sister who knows where to push your buttons.  What do they call a rebel who rebels against nothing?  An innovator.  But, most of us aren't innovators.
Towards an Ecumenical, Gracious and Irenic Spirit.
A big thing that helps a Christian to stay away from the whole mean spirited theological discussions is the prioritizing of your doctrines.  In ecumenical (nice) irenic theological discussions, it helps to have your theological ideas categorized in three spheres:
1.)    Primary doctrines (dogma).  These are the doctrines that make a Christian a Christian.  These are the MAIN ideas that without which you couldn't really call yourself a Christian.  Some people will say that the Apostles Creed represents the traditional agreed upon "Primaries" of Christianity.
2.)    Secondary doctrines (beliefs).  These are those ideas that are valuable, but aren't necessary for one to be a Christian.  For instance, what is your theory on sinful nature?  What are your thoughts on the Holy Spirit?  The atonement?  Sure, it's important to think about these things (and if you haven't, it's always a good time to start), but these are in NO WAY A NECESSARY PRECONDITION FOR FELLOWSHIP!
3.)    Tertiary doctrines (opinions).  These are ideas that are really just opinion.  Like styles of worship.  Like Bible translations.  Ironically, these are the things that Christians will usually fight over.  Technical difficulty.
As you can probably surmise, most churches, traditions and individual Christians will have a different opinion on what defines a "primary doctrine", what defines "secondary doctrines" and what defines "tertiary opinions."
As a way of generalizations, hardcore conservatives will lump all three of these areas into the primary areas … in other words, they'll fight over anything!  Whereas hardcore liberals won't fight over anything.  They move all their doctrines into the "tertiary" area.
Learning to Have Theological Conversations.
When we can accept that within our tradition there are things that are nonnegotiable, but many ideas that are negotiable, I think we can start to have THEOLOGICAL CONVERSATION!
In other words, you have to understand that YOU don't have ALL THE ANSWERS, but YOU do have valuable input!
There are sacred questions.  Questions that are like a river … having a name, but always changing … always moving.
But some people like to dam that river up.  Or freeze it over.  I don't know about you, but I love it when somebody has an answer for every question I have.  Man, I go to him/her like dope.  Like the Bible Answer man.  I need to buy me on of them!
Just kidding.  Quick answers SHUT DOWN conversation.  If you're a guy or girl who finds comfort in having that quick answer … or that summarizing one liner … you're also a guy or girl who won't have many conversation partners.  Do you study alone?  Yeah.  You might not be a good conversationalist.
Another thing that helps in theological conversation is that God has a history, but he's not an object!
Let me unpack that.
Cars are objects.  And the people who understand those "objects" the best are the automotive engineers and the mechanics.  If God were an object, then the people who would know him the best would be the THEOLOGIANS and the CLERGY!  But, God is a subject.  He is a person.  And he chooses to reveal himself not to the smartest, but to the humble.  So that a stay at home mom can actually know God better than the double doctor who holds a chair at Princeton Theological Seminary.
Yet, for those of you who want to jump on the high horse because all of a sudden I've empowered you in your theological illiteracy, GOD HAS A HISTORY!  Yes, you might be walking with him NOW, but you aren't the only one he's walked with.  And theologians and clergy often know that history better than you!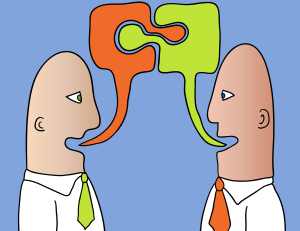 If we understand that God has a history, but he's not an object, I think it can help with the pride that occurs among us.  If the greatest theologian believes he can learn something from the stay at home mom and the stay at home mom believes she can learn something from the theologians, do you think it will help in conversation?
THIS IS A PLACE FOR CONVERSATION
Let's learn together.  Let's challenge each other.  Make each other uncomfortable.  Let's not be afraid to be the heretic.  No worries, I'll bury you for free after I burn you : )  Share your opinion … realizing it is only an opinion.  Your thoughts are neither divine nor dirt, but are needed so that the rest of us can have a better picture of the whole.  W