Posts tagged
Anne Lamott
I'm almost done Seminary. June 25th is when I graduate. Right now I'm working through my thesis paper.
You'd think I'd be looking forward to being done, but I'm kind of sad cause I'm a dork.  I love studying and honestly, going to school gives me an extremely good excuse to study all the time.
But, there is one reason I'm excited about finishing school … when I finish, I'll have the time to read the books I want to read. So here are my top four books on my "Must Read" list, which is always subject to change: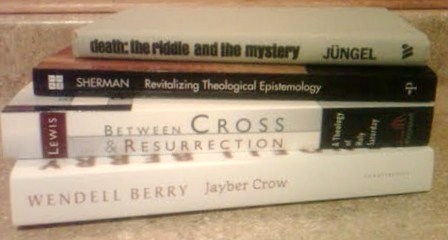 I'm half way through the Berry book and I haven't had the time to finish it.  Love me some Wendell and can't wait keep reading.
There are some honorable mentions, which I might get to when I finish the above books, and they are:
"The Sabbath" by Abraham Heschel.
"Traveling Mercies" by Anne Lamott.
"Culture Making" by Andy Crouch.
"Personal Knowledge" by Michael Polanyi.
TWO QUESTIONS FOR YOU:
1.  What books are at the top of your "must read" list?
2.  Do you have any books that you'd recommend … cause I'm always looking for great reads!