Posts tagged
Pulgasari
Much of Kim Jong Il's life reads like the made up tales of an insecure third grader who had tons of money and resources to do whatever he wanted.
1.  Supposedly he was born at the end of a double rainbow.  And a new star appeared marking his birth.
2.  In most of his 17 mansions, he had extensive water slides.
3.  According to North Korean media, the first time Kim played golf he shot 11 holes in one and had a total score of 38.  Only the North Korean media was there to verify the Il round of golf.
4.  In addition to his golf outings, he's also said to have bowled a perfect 300 on his first try.
5.  He penned enough books to fill entire libraries (most of the books in North Korean libraries have Kim Jong Il as the author).
6.  His moods controlled the weather.
7.  He invented the hamburger.
8.  He loved movies (he had a collection of over 20,000) and wrote the North Korean manual for film making.  Apparently, though, he wasn't satisfied with the quality of directorial talent his manual was producing in North Korea so he kidnapped two South Korean directors in 1978 and made them direct a remake of Godzilla.
Their production, which was named Pulgasari, looked like a take out of Mighty Morphin Power Rangers.
9.  Every person in North Korea was made to wear a lapel pin with Kim's face on it.
10.  He also didn't use toilets because Kim Jong Il didn't defecate.
*****
His life was fabricated in the cult of dictatorship to such a degree that even the cause of his death appears to be a fabrication.
Supposedly, he drank around $700,000 of Cognac a year, but that didn't hurt him.  No, in an attempt to paint Kim Jong Il as a Christ figure, the North Korean PR said he died because he worked too hard for the people he loved.
And then there's this video and this video and pictures like the one below that are supposedly displaying the nation of North Korea mourning the death their fallen leader: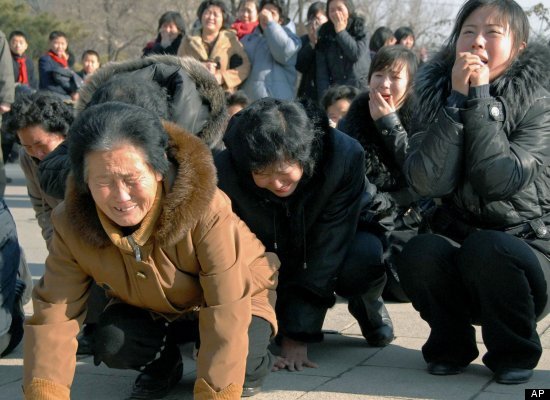 And it makes you wonder if the the grief isn't as fabricated as his life.
Or maybe their mourning and grief isn't fabricated.
Maybe the saddest aspect of Kim Jong Il's death is that many of the North Korean's believed the lies.  And their love and grief is based on a man that never really existed.  If would be like mourning the death of a god … a being who could do anything … and then … nothing.
The North Korean's have been conditioned from birth to venerate their "Father."  In their minds, he created their entire world and now, not only has their Creator fallen, but the one who controls their world is dead.  Can you imagine the utter disillusioned grief you'd experience if you were a North Korean?
*****
And I wonder, especially in light of Christopher Hitchen's recent death, if many Atheists don't see my faith and love for God in the same light?  If they don't see me as I see the North Koreans … as basing my whole world view on false, elaborate constructions of a feigned deity.
1.  A star lead the Magi to his location.  Angels announced his virgin birth.
2.  He walked on water.  And controlled the weather with his moods.
3.  Fed 5,000 people with nothing but a basket of food.
4.  Sacrificed himself for his people.
5.  Healed the sick.
6.  Raised the dead.
7.  Was himself God.
8.  Was raised by God from the dead.
And the main proof of evidence we have for all these fact?  Well, testimony from his followers of course.
Is Jesus really distinct from Kim Jong Il?  Or are both persons just fabricated lies … constructs of overzealous followers?
*****
Let's say I'm an atheist.  What arguments would you use to convince me that Jesus is any different than Kim Jong Il?