Posts tagged
Rob Bell
The following is taken from one of John Piper's sermons:
It's right for God to slaughter women and children anytime he pleases. God gives life and he takes life. Everybody who dies, dies because God wills that they die.

God is taking life every day. He will take 50,000 lives today. Life is in God's hand. God decides when your last heartbeat will be, and whether it ends through cancer or a bullet wound. God governs.

So God is God! He rules and governs everything. And everything he does is just and right and good. God owes us nothing.

If I were to drop dead right now, or a suicide bomber downstairs were to blow this building up and I were blown into smithereens, God would have done me no wrong. He does no wrong to anybody when he takes their life, whether at 2 weeks or at age 92.
Before we can analyse Piper's logic, I want to take a step back and look at the wider picture … specifically, the problem of evil.
*****
This is the basic dilemma presented by the problem of evil:
When confronted with the practical reality of the problem problem, believers who don't use the God of gaps often do one of two things:
They jettison their faith.
Or, they attempt to "grab the bull by the horns."  In other words, they attempt to redefine the premise of the problem … they attempt to redefine "God".
The attempt to redefine God usually goes in one of these three trajectories:
1.) Arminianism attempts to uphold the understanding of God's goodness at the expense of omnipotence by asserting the ability of man to limit God's power.
2.)  Open theology attempts to build on Arminianism and redefine not only omnipotence but the omniscience aspect of God by asserting that man's freedom somewhat redefines God's future plans.
3.)  Reformed theology upholds God's omnipotence and omniscience by attempting to redefine the goodness aspect of God, emphasizing the glory of God in relation to the sinfulness of man.
With John Piper's statement and his background in Reformed theology in mind, we now turn to defining love.
*****
When defining love, we should probably start with a basic philosophical question that was asked in Plato's "Euthyphro". And the question is essentially this:
Does God desire an object because the object is good?
Or
Does God's desire for an object make it good?
Let's make this practical by quickly moving from the philosophical questions to the ethical questions:
Does God hate murder because it's wrong in and of itself?
Or
Does God's hatred of murder make it wrong?
In other words, let's say — hypothetically — that God's hatred of murder makes it wrong.  After all, he is God and can do anything he wants.  Can he, therefore, decide that it is morally acceptable to murder?  Can God make murder … good? John Piper's theological assumptions allow him to look at the Old Testament and conclude, "Yes.  If God wanted to make murder ethical, he could do it because God can do anything he wants."
In other words — following Piper's logic — the "evil" that you perceive as wrong in the world, may actually be for the greater good … for God's glory!
Now, let's go from the ethical discussion to the theological discussion.
Do ethics serve to control our doctrine/understanding of God?
Or
Does our doctrine of God serve to define our ethics?
Let's say — hypothetically — that our ethics control our doctrine. Let's say that the way we defined "love" enabled us to say that not only is eternal hell unloving, but hell itself is unloving (according to our ethics) and so God must save everyone in order for Him to be a God of love.  That "love wins!"
Let's say — on the other hand — that our doctrine of God's sovereignty controlled our ethics. Let's say that God's infinite worth (his glory) justified Him enacting the harshest punishment possible for anyone who offends that glory.  And let's say that that harshest punishment possible was for him to send all offenders to eternal hell.  In this scenario – doctrine serving ethics — God's glory justifies ANYTHING.
And this line of logic, where our doctrine controls our ethics is how John Piper arrived at his above quote.
In the same manner, the idea that ethics can control our doctrine, is how Rob Bell has moved in the trajectory of "Love Wins."
*****
For arguments sake, it's often helpful to put massive issues in either/or categories, and while this discussion isn't necessarily "either/or", it is helpful to ask, "WHICH SIDE DO YOU TAKE?"  And, "WHY?"
*****
This is the last part in my series on the Problem of Evil.  Here are links to my other entries:  1. "Discarding God"; 2. "My Problem with 'God'"; 3. "Is It All God's Will?"; 4."Open Theism and the Problem of Evil" and 5. "So You Think You Have Free Will?".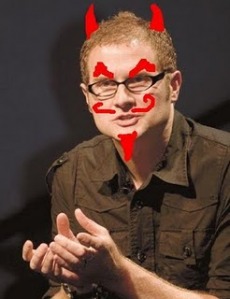 The other day I heard a Christian making fun of Rob Bell by calling him gay (and, mind you, this wasn't the first time I've heard this).  This is wrong on so many levels, so I decided to write a sarcastic post on how Rob Bell could have us hate him more.
He could act more gay. Christians are homophobic … they love to push, shove and bully people they see as less manly; so any added gaynnerism exhibited by Mr. Bell would give a good 10 hate points.
Rob could love Jesus more than the Gospel.  Christians love the Gospel more than Jesus … the Roman's Road, the Four Spiritual Laws, the TULIP and the Gospel of the Ten Commandments.  It's always a major disappointment when some young guy comes along who likes Jesus more than the Roman Road.  15 hate points for hating the Gospel.
He could be successful in reaching young people.  Christian young people need to act like Christian old people, think like old people and seek to please old people.  20 hate points awarded to Mr. Rob Bell for trying and actually reaching young people without being like an old person.
Be more successful.  Only God should be successful.  100 hate points.
Christians love people who don't do their homework … like scholars who call a book heretical before they've read the book.  Rob is actually a smart, well-spoken Christian who does his homework and attempts to love Jesus with his mind.  5 hate points for having smarts.
Martin Luther represents what Christians like: he was hot-headed, often rash and could feed humble pie to his critics with his mad rhetoric skillz.  Rob Bell, on the other hand, has been kind towards his critics, hasn't acted rashly and has willingly listened to his critics, allowing himself to be humbled by their suggestions.  Bad on you, Mr. Bell for not acting like Martin Luther and Jesus! And if you do it again, you'll get 25 hate points!
Did I mention he dresses like he's gay?  99 hate points!
He's kind of distanced himself from the emergent village, et al.  So, go and sleep with some of those guys, Rob and then people could call you "postmodern" and actually mean it.  25 hate points for being moderate.
Love Wins.  Who wants love to win?  Seriously, Rob … we Christians want people to go to hell … it really makes us feel good to know we're "in" and the others are "out." We need people to go to hell so we can feel good about ourselves. Hate Wins would have been much more appropriate.  If you write "Love Wins 2″, you will get 200 hate points for fail lovie-dovie title redux.
He could change his name to Robert Bobert Belius (Rebbelius for short).   6 letters, 6 letters and 6 letters or 666. If you want more hate, change your name.  Infinity hate points.
He could question thousands of years of Christian doctrine instead of just questioning the last 100 years of evangelical theology. Question long standing Creeds, in the company of other reformers: extra jewel in heaven.  Questioning evangelical theology: deserving of hell.
He could address the culture (and maybe be influenced by it).  The Church has never done this.  Seriously, none of the church fathers addressed and were influenced by Hellenism; Augustine never addressed or was influenced by Platonism.  The early American Christians never thought about the Enlightenment.  Evangelicals didn't give a toot about modernity. In hell next to Origen and Hitler because you addressed the culture and may have been influenced by it.
Hate is what we do to people we disagree with … we're Christians … we love to hate … we especially love to hate our own.
*****
Did I miss anything?  What else could Robert Bobert Belius do to have us hate on him a little more?