10 Reasons I've Stayed in the Funeral Business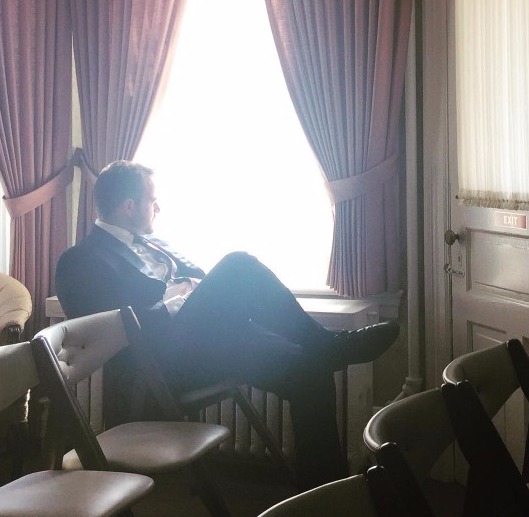 I'm coming up on 10 years licensed, a significant milestone considering that my embalming professor told me that 70% of funeral students never make it to the decade mark.  To be honest, I never thought I'd make it this far.  After I graduated mortuary school, I told my dad, "I think I've only got about 10 years for this business."  At the time, the constant barrage of death and dying, the night calls that I was always running and the dynamics of death culture had me doubting my resiliency.  I also had aspirations of becoming an academic (something I'm still pursuing because I'm a nerd).  But, here I am 10 years later, more committed than ever to the funeral business, so I thought I'd list 10 reasons why I've been able to stay.  These reasons aren't a catch-all for every funeral director, but they're reasons why I'm still here.
Service.
Admittedly, I don't wear a smile when my cell phone rings at 2 AM in the morning for a death call.  Although I'm eventually kind, courteous and congenial when I go on the midnight call, even after 10 years those midnight death calls still wear on my like a weight.  The chaos of death isn't a healthy lifestyle with its unscheduled hours, its highly emotive culture and the demands that come with it.  I think most funeral directors will agree that this business is not easy.  But something happens to me when I see the family of the deceased.  One minute I'll be tired, unhappy and beaten, and the next minute I'm full of compassion, energy, and resiliency.  There's still something wonderful about the service aspect of this industry that keeps me here, that sustains me during the tough hours.
Our Associates.
Ten years ago I didn't have enough appreciation for the people we rub elbows with.  Death has a way of drawing out the beauty in humanity, which is why funeral directors are privy to some of the most beautiful people in the world.  Whether it be the hospice nurses who give so unselfishly, the flower shops who help us out at the last minute, the sextons that waive fees for infants, the pastors who work tirelessly to help families, and any angel who has ever given us free coffee.  If I ever left the funeral business, I'd miss crossing paths with so many wonderful people.
Humor.
From tweets about tying shoestrings in preparation for the Zombie Apocolypse, to finding the lighter moments at funerals, I've managed to make a distinction between serious and solemn.  Death is a serious matter, but it doesn't have to be solemn.  That permission to laugh and lighten the mood has been a key part of my resiliency in this business.
No
If there's one word that is utter sacrilege in a smaller funeral home like ours, it's this tiny two-letter word.  We simply don't use it.  I mean, when can we ever say "no" to a family that just lost their loved one?
But if we're to survive, we have to introduce it into our professional vocabulary.  Death has a way of being more demanding than life, especially the personal life of a funeral director.  Death constantly clears our personal schedule books.  We're supposed to go to our son's baseball game, but there's an evening viewing.  We're supposed to have Christmas dinner, but there's a death call.  We're supposed to go on a date, but there's a family that wants to come in and make arrangements in the evening.
We have to find a way to allow ourselves to live our own lives in the midst of death.  Sometimes that means hiring others to do some of our work, and sometimes that means creating better organizational systems and sometimes it simply means saying "no."  If I hadn't learned to say "no", I would have burnt out of this business years ago.
Affirmation.
Being told, "You've made this so much easier for us." or, "Mom hasn't looked this beautiful since she first battled cancer", or "You guys are like family to us" means a lot to me. It's important to know that what you're doing is meaningful for the person you're doing it for.
That verbal affirmation is huge in sustaining those of us in the dismal trade.
The Calling
I'll be the first to admit that I don't like the term "calling".  I'll also be the first to admit that I never felt called to this business.
Callings aren't predetermined nor are they divinely ordained.  Neither are they mystical or set in stone.  They're not our "dream jobs" that can only be obtained with supreme talent, intelligence and luck.
A calling is when we hear the voices of those needing our help.  Callings can arise in the darkest jobs, in the most monotonous of tasks and at the "lowest" positions.  Callings are something we learn to love.  Callings are something we choose to do because we develop an ear to hear and an eye to see.  A person who is "called" is a person who has seen a need and answered so many times that it becomes a part of who they are.
Now, more than a decade in, I'm staying in this business because this call is something I now answer so naturally that it's become a part of who I am.
$$$
When I was younger, I thought money didn't matter.  I'm older now.  Consistent paychecks are good.
The Stories.
I love hearing tales of death and dying.  Call me morbid, but I just find so much wonder, sacredness, spirituality and beauty in death stories.  The stories are my ballast.
Empathy Vs. Sympathy
There's a saying in the funeral business that goes something like this, "treat every family as though they were your own family."  That's a nice sentiment, but it is not entirely practical.
There are times (at funerals especially) when all we can give is sympathy. When it's outside of our ability to fully empathize with a person's situation. After all, the person laying in the casket isn't my father. This isn't my daughter. This isn't my family.
And that's our job. You pay us to be directors. And we couldn't handle much more. We have to maintain a certain level of objectivity because there's only so much pain, grief, and heartache we can share until we too start to crash … burn out.
But, there are other times when you can't help but be drawn into the narrative so that you enter the narrative and become a character in the story. Not just a director, but an actual character in the drama of life and death.
Sometimes all I can do is sympathize.  Other times, I empathize.  Allowing myself the permission to do both has been key.
Self-Care
I've been close to being burnt out.  Landed in the hospital.  Reevaluated life.  I started to seeing a psychologist.  I started anti-depressants.  I started writing more.  I started going to the gym more.  Saying "no" more often. I started to realize that if I wanted to take care of others, I had to take care of myself.  Self-care is the unselfish act of selfishness and I know for a fact that I'd be out of this business if I didn't practice it.