Memories Transformed: 3 Stitch Creations
Today's guest post is by "3 Stitch Creations":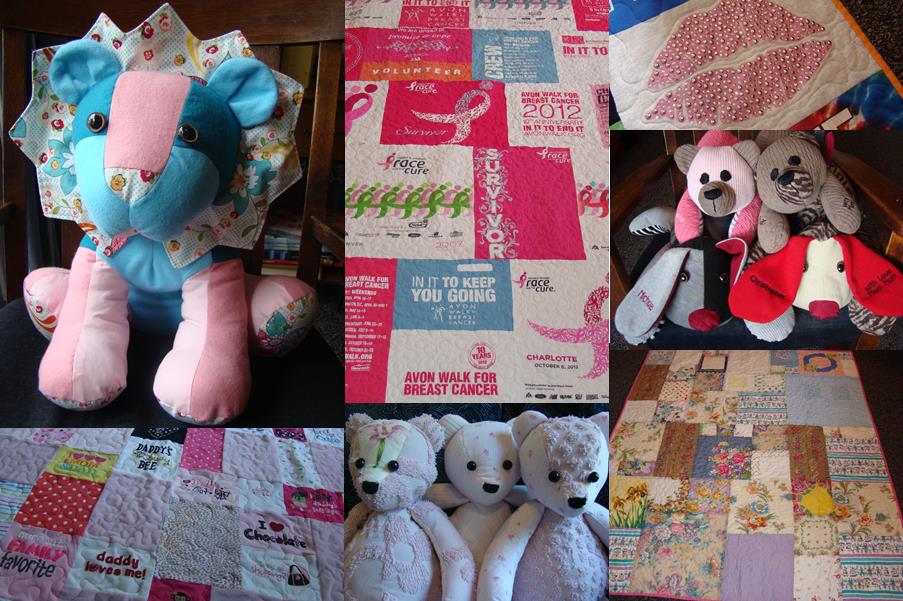 Many people are surprised to hear our business is actually based on death – while that is not all we work with; it is the thing closest to our hearts and the dearest to work with. We create Memory Quilts and Memory Animals from clothing and materials. The remnants of a life lived.
We each get up every day, and unless we are a hard core nudist, we put on clothing. We have drawers and closets packed full of shirts, pants, coats, PJs and even our delicates. These are all still there when we are not. Someone is left with the job of trying to decide what to do with all those items and for most, that decision is wrapped with a ton of emotion. We can still be seen in that favorite shirt, we are resurrected for a moment by the tie we got at Christmas or the pants we clung to til the end. Often, the thought of letting those memories go, to just toss them or donate them seems so cold and unbearable to those left behind with the pieces.
We offer another option – transform them. Let them continue to bring smiles and warmth to those who are left. From the grandma or grandpa who lived a long full life leaving a trail of love and laughter to the teenager that never came home to the infant who never celebrated a birthday – we have worked over their clothing and materials with a great amount of reverence and tears. It is always an honor to get to work with another's life, to give hope and comfort in the midst of loss and pain.
It is why we started. We too have loved and lost. While we rarely personally meet many of our clients, their gratitude comes through in the emails and pictures they send us. A child napping with the bear from his grandfather's uniforms, a mother hugging a quilt of her son's favorite jeans and t-shirts, or a father saluting the flags his father used to fly now transformed for his kids to hang on to. Each moment, each breath was wrapped in some type of clothe that we creatively and uniquely give our full attention to capture and return to safe keeping.
Don't let the thought of losing them be the end – consider another option, a transformation, a new life –the memories can be kept alive with Memory Quilts or Memory Animals.
You can visit "3 Stitch Creation's" website HERE.