On Being the Author of Relevant Magazine's 2011 "Most Popular Article"
I have my twitter account synced to my cell phone, which Nicki hates because every time I receive a new twitter follower, my cell phone beeps.  And although I don't have numerous twitter followers, every once in a while …
In the middle of a funeral: "Beep!"
In the middle of dinner: "Beep!"
In the middle of the night: "Beep!"
I'd turn my cell phone off, but I'm on call 24/7, every day of the week so I have to keep it on.
This past Friday night at around 11 PM my phone starts going off about every 30 seconds, notifying me of a new twitter follower.  After about a dozen new twitter followers I begin to get slightly suspicious and start doing some Twitter research to see why so many people would want to follow a funeral director.
And then I see this: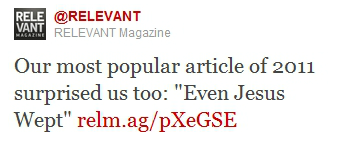 "I wrote that", I thought to myself.
I was pretty sure it was a mistake, so I replied:

To which Relevant responded:

To be fair – for those of you who aren't familiar with StumbleUpon – the effect of SU can produce a false positive in that the hits SU produces are more quantity and less quality.   Yes, I beat out Rock Star Rob Bell's exclusive interview with Relevant … but let's be serious, I'm just a funeral director.
But still … more hits than an exclusive interview with Rob Bell … at the height of "Love Wins"?!?!
I went to bed with my head expanding with hot air as I pondered this question:, "Hmmm … what perks does this accomplishment entitle me to at the Funeral Home?"
Maybe a couple "Get out of Doing Morgue Work" passes.
Could I get a company car that's a Lamborghini converted into a hearse?
Possibly I'm entitled to a golden Trocar with my name engraved in it.
Or, maybe they should make a prize that's given to the most famous funeral director in Parkesburg, and give out the inaugural trophy to yours truly.
Instead of a trophy, maybe the prize could be a diamond encrusted, genuine leather morgue apron that says, "Most Famous Funeral Director in Parkesburg 2011."
Actually, though, I'm more like the fifth famous funeral director in Parkesburg.  As we're the only funeral home in Parkesburg and the rest of my family is by far much more well known than me.  People still say, "Oh, you're Bill's son" or, "You must be Bud's grandson."  Few here in Parkesburg know my first name.
I couldn't in good conscious take that diamond crusted apron of awesomeness.
Then I speculated, "Could Rob Bell call me up and want to prearrange his funeral with me?"  Then I could hold the title as "The Only Man to Bury Rob Bell."
Maybe the Relevant post entitles me to a raise at the funeral home … and at this point in my late night day dreaming I started to fall asleep.  Only to be awoken early the next morning (New Year's Eve) by the sound of my buzzing phone.
"Hellooo" I said in a voice that was attempting to mask the fact that I just woke up.  It was my dad on the other line and I could tell his tone that he was a step away from being peeved.
"Didn't you get my text?" he asked.
"No."  I responded, "My phone was on vibrate last night."  I said this while thinking to myself "it's on vibrate because I'm so freakin famous."
"Well, I texted you some time ago.  We have a call at the hospital.  Get your clothes on and come to work."
Reality sets in.  The expanded cabaza begins to deflate.  No diamond encrusted apron awaits me.  No "Get out of Doing Morgue Work" passes.  And since I'm late, there will definitely be no raise.
****
This "most popular article" news comes at about the one year anniversary of me deciding it's time to get serious about writing/blogging.
That commitment to blogging coincided with me finding Bryan Allain's blog and buying his book.  Now, a year later, I'm beginning to touch a small segment of the world where Jesus likes to dwell … with the weak and the broken.  I want to see people worship God through their sorrow.  That's why I write.
Maybe next year I'll get my diamond studded morgue apron.