About
2017 Nautilus Book Award Winning book Confessions of a Funeral Director:

2014 TEDx Talk entitled "Embracing Death"
Credentials: 
A graduate of Northampton Community College's Funeral Service Program.
Licensed Funeral Director in the Commonwealth of Pennsylvania since 2007.
Post-grad degree from The University of Winchester, completing the "Death, Religion and Culture" program.
Masters Degree in Theology from Biblical Seminary
Certificate of Thanatology from The Association for Death Education and Counseling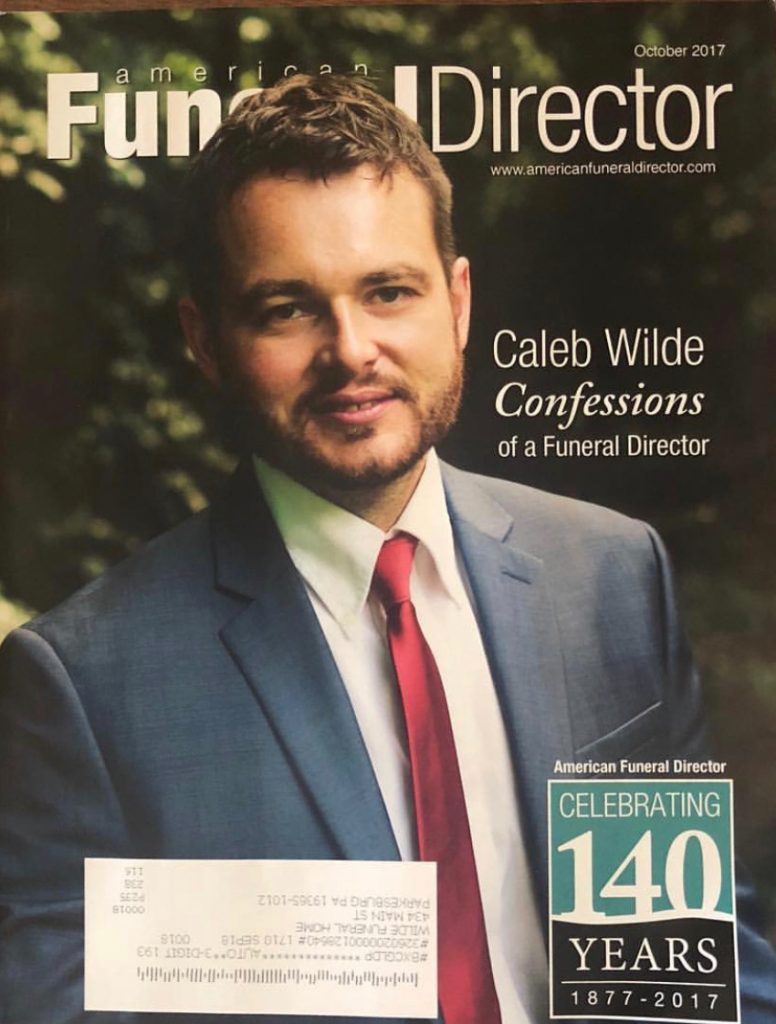 Features:
ABC's 20/20 Interview for Episode "True Confessions".
"Death Becomes Him".  Feature on Medium's Matter written by Prof. Eric Puchner
NBC News Front page feature, "Funeral director Caleb Wilde is an undertaker for the overshare generation"
TIME Magazine online feature, "Confessions Of A Funeral Director' is a Blog You Totally Must Read"
The Philadelphia Daily News front page feature, "Oversharing Undertaker Goes Viral."
Religion News Service online feature, "Funeral director Caleb Wilde posts irreverent thoughts on death"  This article was picked up by the Washington Post.
Country Living online feature: "7 Things a Funeral Director Wants You to Know."
Cover of American Funeral Director Magazine. October 2017.
Folha de S.Paulo, Brazilian Magazine Feature.
The American Funeral Director.  June, 2013.  "Funeral Blogger."

Bylines:
Finding Peace with Your Ghosts at Salon.
Being a Funeral Director Made Me Realize the Death Industry Is Too Exclusive at The Cut.
10 Reasons I'm a Funeral Director at Huffington Post.
How To Take A Funeral Selfie Without Being A Horrible Person at Talking Points Memo
Westboro Baptist and You at RELEVANT Magazine.
Why 99% of Pastors are Universalists at Funerals at Church Leaders.
Even Jesus Wept at RELEVANT Magazine (This post was the "most popular article" on RELEVANT.com in 2011).
5 Things Funeral Directors Wish Pastors Knew at Church Leaders
12 Things My Father Taught Me about Being a Funeral Director at funeralOne.
Confessions of a Funeral Director at Q.
Contributions:
The Atlantic: Quoted in "Burying Your Dead Without Religion"
ABC News: Quoted in "Dead People Get Life-Like Poses at Their Funerals"
Forbes: Quoted in "Death of the Death Care Industry."
US News and World Report:  Quoted in "7 Ways to Help a Loved One Grieve"
Philadelphia Inquirer: Quotes in "Themed Funerals Reflect Boomer Generation."
Huffington Post Live: Should Children go to Funerals?
Church Leaders Top 100 (Book).  "Why 99% of Pastors are Universalists … at Funerals?"
Video, Radio, and Podcasts: 
Rob Bell's RobCast Episode 174: Caleb Wilde is a Funeral Director
New York Public Radio's "Sex, Death and Money" feature entitled: "A Funeral Director's Dead Reckoning"
CBS Philly Feature and Interview "Chester County Funeral Director Uses Social Media To Encourage Conversations About Death"
Yahoo Finance: "How to Plan a Meaningful Funeral without Overspending."
Academic
Annual Editions: Death, Dying and Bereavement 14th Ed., 10 Burdens and Coping Mechanisms of Funeral Directors
Wilde, Caleb.  "A Critical Appraisal of the United States Funeral Profession".  Changing Landscapes: Exploring the growth of ethical, compassionate, and environmentally sustainable green funeral practices.  Lee Webster, Editor.