On Not Knowing Where Your Dad is Buried
Today's guest post is from Lisa Colón DeLay, who describers herself as "CREATIVE, NINJITSU INTERVIEW PRACTITIONER, IMPROMPTU HUMORIST, DISPENSER OF FREE SAVVY, SPIRITUAL FORMATION PROVOCATEUR."  You can stalk her on Facebook, follower her on Twitter and visit her blog.  But, be forewarned, if you attempt any form of stalkery, her Ninja skills will find you out.
****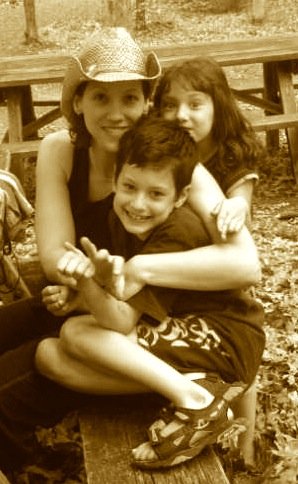 The long and drawn out precursor to my father's death is something out of a bad made for TV movie. It has all the twists, turns, and unbelievability that would make a most incredulous 90 minutes on the small screen. After all, how many people do you know incur a brain stem infarction (kind of like a stroke, but much creepier and not nearly as well-known) only to live through it, become permanently brain injured, and profoundly disabled (think: Terri Schivo). Then comes the 11 year grieving process as he physically wastes away in a nursing home, battling countless infections. At the onset, I was 20 and my father was 44. You can't make stuff like this up. And I didn't even mention the lawsuits.
Death and its many friends wreak havoc on an already shattered family. The details are scandalous, but not as important or profound as a memorial service with no body with whom to part. The trouble isn't so much the service or the memorializing, it's not being told where they laid him. It's not just me–it bothered Mary Magdalene quite a bit too. My step mother still sends Christmas and Easter cards, but she's never told me where my father's ashes are buried. He could be on her mantle, for all I know, or interred at a secret place as a result of paranoia. A bit of spite can go a very long way.
And so what resurrects is not a hope in seeing my dad's resting place, but rather in understanding that many, if not most things in life remain outside of my control. Even things one would consider simple and common.
I've thought about what I'd do if I knew where my father was buried. In the movies it's always raining when they bury someone. Later when people visit the grave, it's usually breezy. It's warmer out too, which is nice. I would pick a mild day. 72º and mostly sunny. I've pictured myself putting notes, or flowers, or photos near the headstone. Praying as a sit in the grass near the site, or singing. A grave doesn't help the one who died, I've realized. It helps the one who's left behind.
Transforming from the bruised hopes of a missed connection with a departed loved one, I think more about the living now, not the dead. And about my own living. Some of that I can and should control. Photos and memories take the place of a gravestone, and I try to do right by how my dad would want me to think about the situation.
He'd want me to be gracious. He'd want me to remember not where he was buried, but how he loved me, and the better parts of how he lived. And that is actually the same thing I want for my own children. The bigger lesson is in the living memory, not the ground marker. (I say this to myself when I'm feeling particularly strong.)
Maybe the marked spot would trap me somehow the way an unknown spot never can. Maybe it's not so savage after all. Maybe I can find a gift in the pile of manure. With a Living God this is possible.
I wish for everyone to get whatever they need in the process of grief. I understand what mementos mean. They are precious things because they signify something that mattered. They honor what was lost. But for those who have nothing to call a burial place for someone they love, I wish for freedom from that sort of extra hurt. I wish for something bigger and life-giving to grow out of that tender spot.