Before
Today's guest post is written by Susie Finkbeiner
"It's okay," I said. "You can go."
I smoothed her hair with the palm of my hand. So soft. I never would have known how soft. I'd never have dreamed of touching her hair before. She would have frowned at me. Before. She would have wondered what in the world I was doing touching her hair.
Before.
Before she ended up in the hospital for a month. Before we got her back in her house. Called Hospice. Set up the living room with a hospital bed. Oxygen tank. Rocking chair next to her.
Before she started actively dying.
"We'll be okay," I said. "We'll take care of each other."
I looked up. Met eyes with my husband's cousin. My cousin-in-law, I guess. The one who teased me. Poked me with forks and called me the "new one" in the family. Who usually would make fun of me before he'd dream of hugging me.
His eyes were wet. Far away. Sad.
Losing her would be hard for him. I knew that much. I could see his heart breaking.
But I needed to be strong. Just for a little while longer. Calm and strong and loving and present.
For my husband's family.
I had to look away from him. From all of them. Cousins and aunts and uncles. My mother and father-in law.
In-laws. All belonging to my husband.
I had to keep my eyes off them.
So I could help her go.
My husband's grandma. The great-grandma of my kids.
She struggled and fought. Sucked in breath. Tensed up.
Tough in life. Tough in dying.
I admired her.
"We're going to be okay."
She'd loved her family. More than herself. She loved them fiercely. Like a warrior. Nobody better get in the way of the love she had for them.
"I promise, we'll take care of each other."
She lived for them. Worked all her life for them. Never had two thoughts that didn't have something to do with one of her kids. Her grandkids. Her great-grandkids.
"We love you."
She was going. I could feel it. Somehow I could feel it. Hear it. See it.
When I first met her, I didn't know what to call her. So, I never called her anything. Ever. Well, except for "my husband's grandma" or "your grandma". But to her face, I didn't call her anything.
This woman I'd never allowed myself to name. Her head in my hands. Soft hair against my fingertips. Last breaths of my face.
I realized I'd not named her because I fear that moment. The moment of losing her. If I didn't name her, it wouldn't hurt so badly when she left.
But that was before.
"I love you, Grandma."
I felt the name I gave her. Claimed her. Took her for my own.
"Thank you."
Gratitude flooded over me. Numbed me.
The numbing. What a mercy in that moment.
"If it weren't for you, I wouldn't have my family." I swallowed down what threatened to edge out the numb. I denied it. For a little while longer. "Without you, I wouldn't have my children."
This woman. Her life made all I had possible. I never realized the debt I owed her. Not until only moments before.
Before.
"You taught us how to love each other."
She left. Stopped. Just like that.
Gratitude and grief and exhaustion.
She'd given me so much.
Her family. My family. Love. Stories.
Even her last breath.
I never would have known what a gift that was.
Before.
*****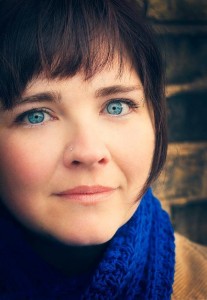 BIO: Susie Finkbeiner is a novelist and short story writer from West Michigan.
Her first novel "Paint Chips" released in 2013.
Her second novel "My Mother's Chamomile" releases February 15, 2014.
She is working on her third novel.
Give her your "like" on her Facebook page, Susie M. Finkbeiner – Novelist