Funeral Options
Today's guest post is written by Patricia Fitchett.
*****
The funeral home that I work for is a big proponent of personalization. We even have the word "Options" right in our title. I have found from working in the funeral business for over 13 years that no funeral is exactly the same as another. Even if you use the same location, or the same officiant or the same prayers or readings, each person who is being honored/memorialized is a huge influence on the proceedings.
The best comment we get to hear is "It was exactly what he or she would have wanted!" (except of course in those situations where the LAST thing he or she would have wanted was to be dead.) It is a real pleasure to be able to help families make choices that make the service for their family member special and unique. That being said, we are often called upon to be the "bad taste police"; pointing out when an idea may not have the intended effect.
Let me give you an example. We've all heard Sarah McLachlan's "In The Arms Of The Angels" song on the commercial where sad shelter dogs with their piteous eyes beg for a loving home. The song is beautiful and haunting and I have had people request it at funerals. From the snippet that you hear in the commercial, it sounds like it would be the perfect choice. But if you look a little farther into the lyrics you find phrases like this one: "everywhere you turn, there's vultures and thieves at your back, and the storm keeps on twisting, you keep on building the lies that you make up for all that you lack". Not really the heartwarming option that it seemed originally.
Another example is the song "Stairway To Heaven". Although people of a certain age love this tune and it holds a special place in our hearts and minds, it is an exceedingly bad choice for a memorial service. Not only will your grandmother hate it, but she will hate it for about seven minutes (an eternity in "sitting in silence at a funeral while recorded music plays" time). The lyrics themselves do nothing to ameliorate the eternity spent listening to the uncut version and unless your loved one was actually killed by "finding a bustle in his or her hedgerow and becoming alarmed", do not make this tune one of your options.
The funeral home that I work for is known for holding funeral services in places that are not a funeral home. For a lot of people it is their church. Some people don't want a church at all, and we have been able to find several lovely options (most notably the KemperCenter) where people can be comfortable holding a memorable, elegant, personal service.

Some folks though are looking for an even more personal option. For some of these families, we have to think way outside the box. We have held services around a favorite tree in someone's back yard. We have scattered cremated remains at Lake Michigan and on the 13th hole of a golf course where the deceased made a hole in one. (I will never tell which golf course though. I don't think they really like that. Let's just say that the sand trap may contain a cup of something that is not sand.)
As far as location "don'ts" go, I would tell people who want to hold services at a tavern to have the speaking part take place sooner rather than later in relation to the drinking part. Enough said…..
By far the most interesting location was chosen by a family we served last year. The gentleman had gone into the hospital while renovations were being made on the shed attached to the barn at his beloved farm. The man died before he could see the work finished. His family held his funeral (complete with casket) in the family's barn.
The man's family cleaned the barn and decorated it with all sort of wild flowers and plants from the property. Only his immediate family was in attendance. His children and grandchildren spoke and I sang his favorite hymns. It was a beautiful service and there was an unmistakable rightness to the location that I wouldn't have thought was possible.
Options? Ask for them by name.
*****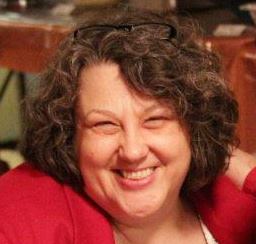 Patti Fitchett is an Apprentice Funeral Director with Casey Family Options Funerals and Cremations of Racine Wisconsin. Patti came to the funeral business as a lay minister and found an affinity for being of service to the families of Southeastern Wisconsin.