For Six Months a Family in Canada Attempted to Resurrect Their Dead Husband and Father
In the Gospel according to Matthew, chapter 10, Jesus says to his twelve disciples, "And as you go, preach, saying, 'The kingdom of heaven is at hand.' "Heal the sick, raise the dead, cleanse the lepers, cast out demons. Freely you received, freely give."
Few Christians read Jesus' command to "raise the dead" as something applicable to present day contexts.  But there's always the exceptions.
For instance, there's these guys: "The Dead Raising Team", who attempt to literally apply Jesus' command in Matthew 10. This is a screenshot of "The Dead Raising Team"'s website: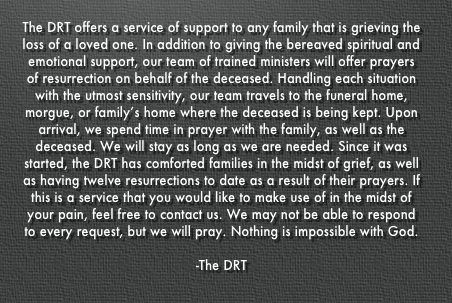 And, there's a family in Canada who attempt the same sort of thing: They attempted to pray up a resurrection.
Here's the story from Molly Hayes of The Hamilton Spectator :
Peter Wald's family truly believed he would rise from the dead.
They believed it because they had prayed for it, every single day, while his corpse lay rotting for six months in an upstairs bedroom of their north-end Hamilton home.
When neighbours asked about her husband, curious about the 52-year-old man's seeming disappearance, Kaling Wald would tell them he was "in God's hands now."

….

Peter Wald, 52, died "probably around March 20th" last year, according to the agreed statement of facts read out in court Monday. He'd suffered from diabetes and his left foot had become infected. But he had refused to go to the hospital and believed God would cure him.

He went into a coma, she says, and days later she noticed his stomach bloating and signs of rigor mortis on his forehead.

She then left him — his body covered with two blankets, his head with a toque — in the bed and padlocked the bedroom door.

Kaling sealed in the door and the vents with duct tape to protect her family from the smell of the cadaver. And then for six months, life went on and they prayed for their dead husband and father in the bed upstairs as they awaited his return.

It was Sept. 17, 2013 when the body was finally discovered. The sheriff had arrived to evict the family from the St. Matthews Ave. house after they had defaulted on the mortgage.

Expecting the eviction, the family packed the dead man's belongings and had his shoes and bags ready to go.

"That was how strong our faith was," Kaling says.
But when she unlocked the bedroom door, his body, which had attracted rodents, was so decomposed it was impossible to identify by photograph.
 To read more of the not so pretty details, click HERE.