Breaking the Isolation of Stillbirth
Today's guest post is written by Samantha Allington.
****
On Thursday 8th September 2011 I was 19 weeks and 3 days pregnant when my waters broke at home.  I knew in that instant that my baby wouldn't survive but I still wanted to hang on to the little bit of hope that some miracle would happen and my pregnancy would proceed safely against the odds.
I was rushed in to hospital by my birth Doula where I was checked over by the doctor who confirmed I had lost amniotic fluid.  After a scan to measure the fluid levels I was told there was not enough water to support my baby's lung development and that due to diabetes I was at high risk of death too.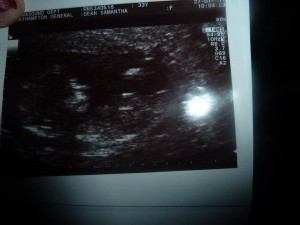 I had to face the hardest decision of my life and after spending from then till the Monday following refusing outright to terminate my pregnancy, I finally conceded to allow the medical team to induce labour at just 20 weeks gestation.  There would be no intervention to save my baby as I was under 24 weeks pregnant and hospital policy didn't permit resuscitation at that age.
I was in an abusive relationship with a violent partner and I chose to go through labour and birth with only my Doula present.  It was a harrowing experience to say the least but I was still determined to make my baby's birth as natural and beautiful as I could.  I wanted it to be special and memorable, for my last moments with my baby to be precious.
We had a candle lit room (LED tea lights and colour changing lotus flowers), aromatherapy, crystals and the Obstetrician permitted me to have a natural birth without any electronic monitoring (no wires or drips) so that I could move around freely.  The midwives allowed us the space we desired and only came in to check once in a while how contractions were developing.
Finally it was time to give birth and despite holding on for as long as I could refusing to push, my daughter finally entered the world at 5:28am on 14th September 2011 at just 20 weeks and 2 days gestation as the sun was rising.
She was about the size of a Barbie doll at just 20cm length and weighing a tiny 10.5 ounces.  Despite her tiny size she was perfect in every way, with ten fingers, ten toes, perfectly formed ears and a little pink nose, I even noticed in the right light she had the fairest eyelashes I'd ever seen.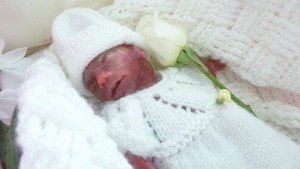 I spent 2 days alone with her in the hospital, holding her, kissing her and trying to take in every little feature so that it would be burnt to memory forever.  I didn't want to let her go or say goodbye, I wanted those days to go on and never end, but of course they did end and I had to leave the hospital.
Arriving home it was time to start planning her funeral, she'd never get a birthday, Christmas, Easter or a wedding day, her funeral was the only special occasion she would ever have, and the only thing I could do for her to make it as important and special as I could.  I contacted the charity Children Are Butterflies who work alongside B Hollowell and Sons funeral directors.  They fund children's funerals and the lady that runs it was lovely.
Due to the abusive relationship I was in, I was again alone in planning my daughter's funeral but Ann made everything go easier and smoother.  She was so kind and supportive towards me and I know I will be eternally grateful to her for all she did.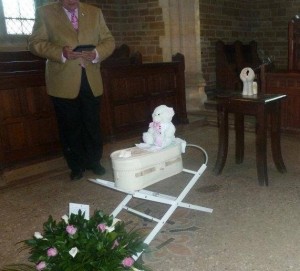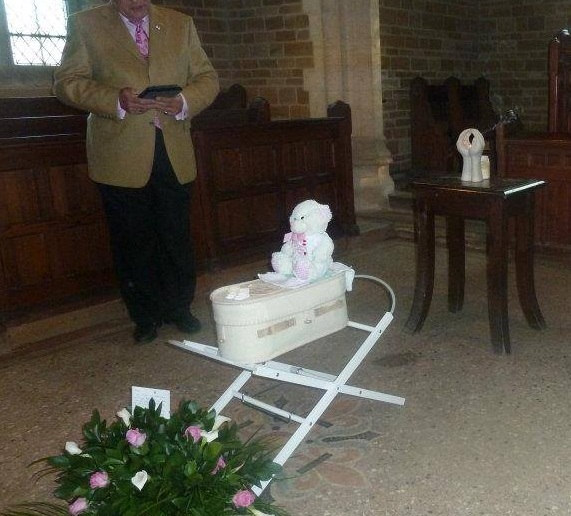 The funeral was beautiful.  We had a Hearse that was made from an old London black cab to take Poppy-Rose to her last resting place and a beautiful white woollen coffin with an embroidered name plate.  The funeral was white, pink and butterfly themed.  Poppy's coffin looked so tiny at the front of the chapel resting on a Moses basket stand that was far too big.  We read poems and I gave her Eulogy before moving to the graveside for her internment.  Each guest was given an incense stick to light and place in the ground around her grave and a paper butterfly to write a message on for her.  As we said goodbye a beautiful red butterfly flew across her grave, unusual for the time of year here in England.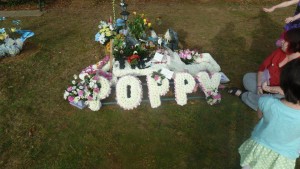 I wanted to share my story because often talking about baby loss is considered taboo but especially in cases of termination for medical reasons.  This leaves so many women (and families) feeling isolated and alone in their grief.  I wanted a chance to give my side of the story, to show you how much we all need that little bit of help, compassion and love.  We don't all have family to stand by us; some of us feel so alone in our grief.  We go through all the usual feelings such as sadness, despair, anger but often we also feel  guilt and self-blame and this can only be made worse when we are silenced by others negative judgements , we need to be allowed to speak out and to share our stories, our personal journeys with others.