Aging, Dying and Being Reborn in Stop Motion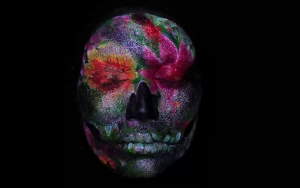 From the video's creator: "This is an animated self-portrait exploring the idea of rebirth and illustrating the transfer of energy from one incarnation to another. I painted this stop frame animation on myself over 5 days, using some face paints, a mirror and a camera.
Ruby from Emma Allen on Vimeo.
I'd like to think there's truth to this video.  I'd like to think there's a lot of truth to it.  In fact, I wonder how much of me, how much of you, is made up of those who have gone before us.  That not only our character constitution, but our physical constitution, is inherited from our ancestors.   Kum ba yah.