An Explanation as to Why Those Caskets Are Floating in the Louisiana Flood
You've probably seen those utterly disturbing pictures of caskets floating downstream from the Louisiana Flood.
It's horrible.  The stuff of nightmares.
You probably have some questions:
Why do they float?
Can those bodies be easily identified?
Shouldn't the vaults keep them contained in the ground?
To the first question.
There are a couple of kinds of caskets.  There are wood and metal caskets.  Within the metals, there are sealing caskets (also known as gasketed or protective) and non-sealing caskets.  Sealing caskets have a rubber gasket that creates an airtight seal when the sliding lock bar is cranked shut with the casket key.  You may have seen funeral directors use said key after the lid is closed at a funeral.  We insert it into a small crank hole at the foot end of the casket and turn it until the lock bar is totally tight.
Sealing caskets are the only ones that will float.  Even though you would think a wood casket would float, because wood caskets don't seal, they're more likely to fill up with water and stay put in their vault.
Can those caskets and the bodies contained in them be identified?    
Most sealing caskets have what's called a "memory tube."  You can see where that tube is located in the picture below.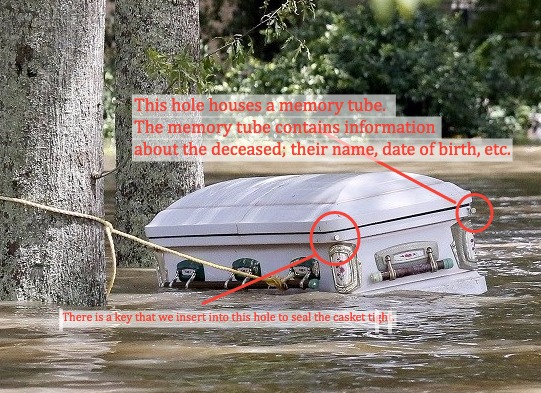 If the funeral home filled out the memory tube, the process of identification is a whole lot easier.  If the casket doesn't have a memory tube, the process becomes much more complex.  Although I'm not certain, I can imagine that DNA testing would be the last resort.
Shouldn't the vaults keep them contained in the ground?
Most cemeteries require vaults (a requirement that I disagree with, but that's another blog post).  Vaults, like caskets, can either be the sealing type or the non-sealing type.  When the ground becomes over-saturated with water, the sealing vaults can pop out of the ground, causing the vault and the casket it contains to float away (see the picture below).
More often than not, it's just the casket that floats away.  In the case of the Louisiana Flooding, the vaults are exposed above ground (I would only assume it's because there's a high water table in these parts of the country).  If the vault was buried underground as is the case in most cemeteries, it's less likely that the caskets would pop out.  But, since they're that much closer to the top, it's that much easier for them to stroll down the river when the flood waters come a rolling.
If you don't want to go boating and floating after you're dead, there are a few things you can do to make sure your body never washes away:
Cremation
Green burial
Don't use a sealing casket
Tie your vault to an anchor.