My Book Is Finally Here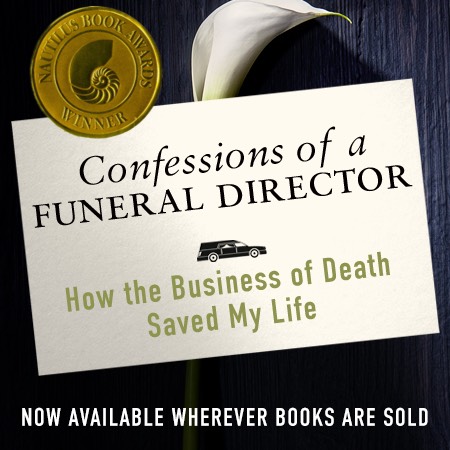 This book started as a dream some five years ago, right around the birth of my son, Jeremiah.  His birth marked a distinct time in my life when I realized that I could find enough beauty in death care and enough beauty in death to sustain me as a father.  When I first joined the funeral home — approximately seven years prior to Jeremiah — I was depressed, anxious and held onto a narrative about death that painted it as entirely negative.  Through a number of experiences, experiences that I share in this book, that death negative narrative slowly began to change as I discovered a positive view of death that inspired me to a renewed appreciation for death care and the renewed sense that I could raise a child in this world.
Although the dream started five years ago, this book's journey has been two years in the making.  It was around July of 2015 that my agent started pitching my proposal to different publishing companies.  Back in July 2015, I had a somewhat clear idea of what the book would look like, but it had yet to be written.  From the beginning, it was to be a memoir that followed my journey from death to rebirth, from infertility to Jeremiah's birth, from a death negative narrative to death positivity.  But, like most memoirists, I was somewhat afraid to tell the honest truth about my life with death. I was afraid that my journey was too dark and too complicated by matters of God, death, religion, hell, and heaven for people to want to read.
I knew there'd be an interplay between my growing up around death, how my views of God affected my death negative narrative, and how my experiences in death care led to a death positive spirituality.  I knew that I'd need help telling these stories in a way that was both inspiring and yet still honest about the difficulty of death.  So, I was really excited when HarperOne (the spirituality imprint of HarperCollins responsible for books like The Alchemist by Paulo Coelho, Love Wins by Rob Bell and a number of other books that found a way to deal with heavier topics while still maintaining a tone of inspiration) signed me on in September of 2015.
In the Fall of 2015, this space here on my blog became all but quiet as I started tracing my journey with the help of my wonderful editor Katy Hamilton.  I kept working full-time at the funeral home, which made the writing process slower but it also kept the stories grounded and in touch with death, death care and my own personal struggles with both.  It may have written a better book had I focused entirely on this book, but staying at worked helped me write compassionately from my heart about the family who lovingly dressed their deceased father for his burial.  The embalming of a little girl that offered a gift back to her grieving family.  The nursing home that honored a woman's life by standing in procession as her body was taken away.  The community of people with different beliefs who came together at last at a funeral.  Save the introductory chapters, each chapter follows a different death story, and how that story moved me toward death positivity.
I write, as something of a thesis for the book,
"I tremble to say there's good in death, because I've looked in the eyes of the grieving mother and I've seen the heartbreak of the stricken widow, but I've also seen something more in death, something good. Death's hands aren't all bony and cold."
I'm both excited and nervous for this book's release.  Excited because I feel like I captured a story that will inspire, deepen and move its readers closer to embracing death and mortality.  Nervous because many of these stories are written from a position of personal transparency and vulnerability.
If you've read my blog for a while, you may see traces of stories you've read here, but most of the stories are new.  If you haven't been reading my blog, the whole thing should be fresh.
Here it is.  You can click HERE to go to the book's landing page.