Caleb Wilde
(220 comments, 1242 posts)
I'm a sixth generation funeral director. I have a grad degree in Missional Theology and a Certification in Thanatology.
And I like to read and write.
Connect with my writing and book plans by "liking" me on facebook. And keep tabs with my blog via subscription or twitter.
Posts by Caleb Wilde
These stories were compiled by Reddit users.  If you're not familiar with Reddit, it's kind of like Facebook except its users are generally anonymous and you can pretty much post anything you want.  And you can comment on a thread even if you're not friends with the original poster.
Also, if you're sensitive to curse words and sexual innuendos, you may not want to read this post.
1.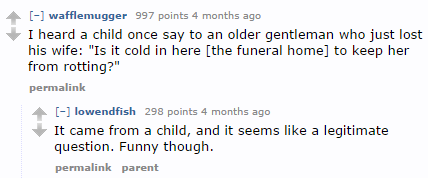 2.

3. 4.  5.  6.  7.  8.  9. 10. 11.  12. 
Caleb Wilde's RSS Feed