I have some problems with the idea of heaven.  I know, you might hate me for saying that.
The Barna Group says 81% of Americans believe in the afterlife.
The Washington Post quotes 75%.
The Council of Secular Humanism states 55% definitely believe in life after.
Anyway you look at, the majority of us believe in life after death.
My problem has less to do with the idea of the afterlife and more to do with HOW we use it. The afterlife is powerful; and like most powerful things, its easily abused.  The easiest abuse that arises is that we can pay more attention to the life after than the life here and now.  As the saying goes, we become so heavenly focused that we become no earthly good.
This plays out especially during death and dying.
The "Don't grieve, deary, your husband is with Jesus" cliché death-related responses hit right at the heart of what I'm trying to communicate.
To start with, religious believers have a very difficult time accepting their grief as legitimate because many worship a god who is impassible … who is without emotion.  We emulate what we worship and nothing is unhealthier than humanity trying to act like their unemotive deity during times of distress, pain and death.
Compound this unemotive deity with the belief that death isn't really real … that death is the pathway to another life … that we shouldn't grieve because "your husband is with Jesus" and we have a recipe for disastrous dishonesty about our pain in death.
Religious people tend to downplay tragedy with clichés like:
"It's God's will"
"God meant it for good."
"We don't always understand God's mysterious plans."
And in the same way, we use the powerful antidote of the afterlife to downplay our grief and pain during times of death:
"At least you know he's in a better place."
"You can be happy to know she's in the arms of Jesus."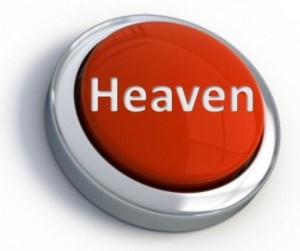 All this speaks to repression, delusion and the tendency to skip the first four stages of Kubler-Ross' model and go right to a faux form of "acceptance."
And this is why I think it's unhealthy.  It's unhealthy because it can too easily take away your grief work.  It's a "get out of pain for free" card that all too many play to the detriment of their personal growth.  In the same way that I disdain a person buying a fake online PhD, so do I distain this attempt to skip the labor of grief, the growth of grief and the personal evaluation that inevitably comes with death.
Heaven's the trump card.
The "Easy Button".
We become so heavenly minded that we're no good at grief.  We can become so heavenly focused, that we forget the here and now.  We see death as unreal, as almost fake; and we become just like our view of it.