Today's guest post is from Chrissy Kulcsar:
For some reason, it seems like the funeral business attracts very 'unique' people.  And by 'unique', I mean weird. I'm not saying I'm normal by any means.
So with this being said, let me describe to you the 'wonderful' personalities you may encounter in the funeral world!!
Example #1: The stereotypical 'funeral director personality': dry, unfriendly, and very cold.
I just don't get it- why do people who have made a commitment to serve their community have the personality of a … well, I guess the right term would be a CORPSE. The monotone voice, lack of personality, and the thin lipped, barely-cracking-a-smile thing is just … off putting. It gives us all a bad name, since that's how most people expect us to be like. I've met my fair share of Lurches, and its scary.
Example #2: The embalmer that clearly never speaks to live people anymore.
Now, I'm not saying all people turn into this.  There's times that I love not working with live people. The dead don't talk back, nag you, or get annoying. They stay nice and quiet. But there are some people out there that seem to have lost the ability to talk to live people, co-workers and people in their personal life.
You want to meet a "socially retarded" person? Well… this is the type of guy (or lady). This type of person sometimes goes out of their way to be creepy. I've seen them pretend that nothing is too gross for them to deal with. The overly macho thing comes out a lot. I think most of the time, their personality just sucked and being a mortician made it even worse.
Example #3: The used car salesman.
Probably one of the most irritating things to listen to is directors pushing merchandise on people.
I've heard directors talking up merchadise like a car, and it makes you want to puke. This (besides the Lurch thing) is what gives this whole business a terrible image, taking advantage of people when they are very vulnerable.
I was lucky; when I was an apprentice, my boss told me that merchandise isn't as important as the service you give to a family. As a result, I'm horrible at selling caskets, but I can't say that bothers me.
Example #4: The 'Player' Funeral Director.
I know what you're thinking, how is that even possible? For some reason, it happens. So many men I met in this business are CREEPS! Cheating on their wives, having a 'love child' with the local town deputy, hitting on the interns … it just boggles the mind.
I know what you are thinking. No matter what profession men and women are, there's going to be weird sexual tension, affairs, you name it. It just creeps me out that some dude is staring at my behind when I'm trying to move a dead guy.
Example #5 The Straight Up Jerk.
This seems to dominate all the bad personalities I've come across. Seriously, this business is FULL of them. I didn't realize it until I got licensed. My first boss always told me, "every funeral director out there is an A******!" I wrote this off at first as him just being old and cynical … but folks … its true.
Sorry to everyone just starting out doing this, you are going to come in contact with a ton of jerks. Its like high school all over again, but half these people are in their 40′s and 50′s. The passive aggressiveness, the two faced, smiley and bull talking; everyone pretends to be friends when they all secretly hate each other.
Just warning you out there, when you're an apprentice, its one thing. The minute you get your license, you're a threat. So don't let these guys Lumbergh your experience.
PLEASE PLEASE PLEASE! To those considering this career path, don't let these horrible personalities take over. Its hard enough dealing with the creepo's we have.
*****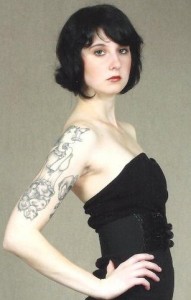 Today's guest post is from Chrissy Kulcsar.
Chrissy is a director and embalmer licensed in N.J. and AK.
She has been working in the funeral business for the past eight years, completing her internship and education in New Jersey.